Childish Gambino, Reggie Watts improvise a funk song from scratch on 'The Late Late Show'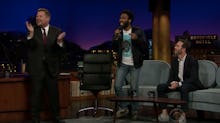 It's not every day Donald Glover willingly turns into Childish Gambino in front of a live TV audience, but it seems James Corden and his crew are able to get their guests to do just about anything. The triple threat comedian, actor and musician made a rare stop at Corden's The Late Late Show, and at the request of the show's band leader Reggie Watts improvised a song on the fly.
Childish Gambino has been out of the spotlight for years since 2013's Because the Internet. But he's been slowly reemerging to promote his coming album Pharos and his new FX series Atlanta. That new album, which he performed at a one-of-a-kind, off-the-grid Labor Day weekend festival in Joshua Tree, California, is rumored to feature a lot more of Glover's singing than his past. His impromptu creation with Watts might be a glimpse at what it could sound like.
It's actually a pretty spectacular cut, especially considering it was made on the fly and features mostly Watt's dexterous beatboxing. The rest of the interview was similarly entertaining. 
Glover also revealed on Tuesday night's show that he loves karaoke, and that his go-to jam for such a singalong session is Seal's 1994 classic, "Kiss From a Rose." He then walked Corden through the tune's lyrics, after the show's host admitted he didn't know much other than the melody. That quickly devolved into a riotous duet between the two men. 
Childish Gambino's Pharos currently has no release date. Until his new album arrives, fans thirsting after his humorous falsetto should likely just follow his Atlanta press run. This doesn't feel like the last time we'll hear Glover burst into song.