Chelsea Manning to receive gender transition surgery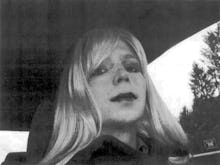 Following a five-day hunger strike, Chelsea Manning, a trans woman currently serving a 35-year sentence in a men's prison for espionage, will receive the gender confirmation surgery she's been requesting for years.
"I am unendingly relieved that the military is finally doing the right thing," Manning said in a statement her lawyers shared with BuzzFeed News. I applaud them for that. This is all that I wanted — for them to let me be me."
Though the United States Army had approved hormone treatment for Manning — who was dishonorably discharged from service for leaking government documents to Wikileaks at the time of her conviction — Manning said her gender dysphoria is what drove her to attempt suicide in July.
At the start of her hunger strike, Manning said she felt that, in being denied transition-related surgery, she was being "punished" for surviving her suicide attempt.
According to BuzzFeed News, Manning will be the first inmate to ever receive such a surgery.
Manning's lawyer Chase Strangio told the site, "Thankfully the government has recognized its constitutional obligation to provide Chelsea with the medical care that she needs and we hope that they will act without delay to ensure that her suffering does not needlessly continue."