It's 2016 and Victoria's Secret Pink just got its first black spokesmodel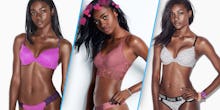 Victoria's Secret hasn't exactly been the poster-child for diversity. After all, it took until 2015 for a model with natural hair to walk in its fashion show. Still, to this day, there has never been a plus-size woman on their runways, in their catalogues or on their website. And since its creation in 2002, Victoria's Secret's offshoot Pink, which is targeted toward women aged 15 to 22, has only had white spokesmodels promoting the brand. 
That is, until Zuri Tibby came around. Just two weeks ago, it was announced that Tibby, who is 21 years old and was discovered in a mall in Florida, would be VS Pink's first black spokesmodel. 
"So excited to announce that I am the newest face of VS Pink," Tibby announced on her Instagram, noting that she'll be the star of their latest campaigns, along with model Rachel Hilbert. 
Immediately, praise started rolling in for Tibby from fans who realized what this may mean for her. Especially since previous VS Pink spokesmodels include Alessandra Ambrosio, Behati Prinsloo, and Elsa Hosk, and all of those women went on to become Victoria's Secret Angels. Currently, among the 14 angels, just two are black. 
"This is why you're my role model," one commenter wrote. "I can't wait to see someone that looks like me up on those posters in PINK!" Another: "Great to see fellow black girls working it." 
"I feel very proud and honored that a lot of other women of color look up to me," Tibby said in a recent interview with Cosmopolitan. "It's so important to inspire people. When young girls look at magazines and advertisements, it's important to see girls that look like them. It's very encouraging."
And already, Tibby has shown interest in following in the footsteps of Maria Borges, the first model to walk with natural hair at the VS Fashion Show. 
"In most of my photo shoots, I wear my natural straight hair. I think my hair is beautiful either way," Tibby told Cosmo. "Natural hair is something everyone should embrace. It's celebrated more now than it ever has been before."
In addition to Tibby's accomplishment, VS Pink has also recently brought on the Victoria Secret's first-ever Filipina model. Her name is Janine Tugonon and she made her formal debut in a new commercial for Pink for its back-to-school collection. 
With runways still dominated by white women, with nearly 70% of the models walking in last season's New York Fashion Week being white, and the same going for ad campaigns as well, where nearly 80% of the models are white, small moves like these matter. 
So although Victoria's Secret hasn't exactly been leading the way in which brands can bring in models that aren't tall, thin and white, it seems like they are finally making an effort with this latest Pink campaign. 
Now, about those plus-size models ...