An out lesbian was allegedly murdered by a man who had harassed her for months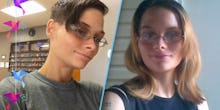 Danielle Smith, 27, and her mother, Terri Jackson, 61, were found dead in a burned trailer home in Camden County, Missouri, on Aug. 29. Both had been stabbed a number of times before their home was set alight. The suspect in their brutal murders, who was arrested days after, was a neighbor — a neighbor who had allegedly been harassing the two for months about Danielle's sexuality.
Steven Endsley, 54, was arrested and charged with six felonies including first degree murder, according to a release from the Camden County Sheriff's Office. Witnesses said Endsley had been involved in "an ongoing disagreement with Smith over her sexual orientation," and the sheriff's office and FBI are investigating the case as a possible hate crime.
Months of harassment: In a Wednesday phone interview, Danielle Smith's sister, Heather Smith, who lives in Omaha, Nebraska, said Endsley had been harassing Danielle for months because of her sexual orientation. Danielle was an out lesbian, said Heather Smith. (Other reports have identified Danielle as bisexual.)
"She would tell me that he wouldn't leave her alone, he kept calling her a lesbian and a faggot," she said, adding, "I know he would throw firecrackers at her house, because it upset the dog."
Danielle reported the harassment to the police, according to Smith. The police "would come by and tell him to knock it off," she said, adding, "They weren't really doing anything."
Local outlet Lake News Online reported that, on the night of the murders, Endsley sent Danielle Smith threatening text messages.
Sgt. Scott Hines of the Camden County Sheriff's Office said in a phone interview that, although officers responded to calls from the neighborhood somewhere between "five to seven" times, there was only one incident report on record involving Danielle Smith and Steven Endsley. 
"We were there in July and we took an incident report where Danielle was involved," Hines said. "But it looks like that was a continuation of a neighborhood dispute."
The idea of a restraining order against Endsley was discussed, Hines said, but Smith and her mother never filed it. "There was some talk about Danielle bringing a protective order against Steve," Hines said. "She did not follow up on that."
Hines said it was "a neighborhood dispute that took a turn for the absolute worst," and said that he didn't see a way that officials could have predicted the fatal outcome.
"I don't know how anyone would have been able to predict anything like this happening," Hines said. "I don't know how that would even be possible."
Smith feels otherwise. "I do absolutely think something more could have been done," she said in an email following up Wednesday's phone call. 
Smith said that Danielle and her mother made several calls to police. The situation could have been averted, she suggested, "if the police had not just pushed it aside after so many reports and maybe charged [Endsley] with assault." 
"They told her to get a protection order," Smith continued. "That would not have been able to do anything until he did something physical, which clearly happened anyway."
Smith told Lake News Online that because the police were "doing nothing," her sister installed surveillance cameras to record Endsley's ongoing harassment. She told the outlet her sister "was going to get an attorney and use the footage to do something about the harassment. Unfortunately, it was too late."
LGBTQ people face unique challenges when coming to police for protection, according to Virginia Goggin, director of legal services at the New York City Anti-Violence Project. 
"For one, calling the police can put them in a position where they have to come out as LGBT," Goggin said. "And that might feel like it puts them at risk or they're not out and they don't want to come out to the police officer." In her work with domestic violence cases in New York City, Goggin says, she has even seen LGBTQ people face discrimination from the police officers they turn to for help. 
Though restraining orders can be helpful, there's no guarantee it would have protected Danielle Smith from Endsley. "An order of protection is a piece of paper," Goggin said, adding, "it doesn't really protect you on its own."
"She never judged anybody." That's how Smith remembers her sister Danielle.
She was "the most outgoing, kindhearted, loving person you could meet," Smith said. "She definitely was not shy about who she was, everyone knew she was a lesbian ... she was proud of who she was." 
And, Smith added, "I was proud of her for being who she was." 
She also remembered Danielle as a an animal lover, who loved to go camping and was constantly taking in foster cats and dogs. "Every time I turned around she had a new cat or a new dog," Smith said.
Smith said Danielle had moved in with her mother to help care for Jackson, who had health problems. "She was trying to be there so that her mom wasn't alone," she said. 
Danielle Smith had been working at a local factory for just a few weeks before she was murdered, according to her sister. 
In a statement released by LGBTQ-advocacy group Human Rights Campaign, the organization expressed condolences to Smith and Jackson's loved ones and said that their deaths "come in a year of disturbing and heart-wrenching attacks on LGBTQ people and their communities," including the June mass shooting at Pulse, a gay nightclub, that left 49 people dead.
In June, the New York Times reported that LGBT people are more likely to be the targets of hate crimes than any other minority in the U.S., according to statistics on hate crimes from the FBI. In 2014, almost a fifth of the 5,462 reported "single-bias hate crimes" were motivated by the victim's sexual orientation, or, as the New York Times points out, "perceived orientation."
And those numbers may even be underreported — Gregory M. Herek, an expert on anti-gay violence, told the New York Times that some LGBT victims of attacks might not come forward because of the risks of outing themselves to family or employers.
On an individual level, anti-LGBT hate crimes are horrific — take, for example, the Los Angeles man charged with killing his gay son back in April, or the gay couple who were brutally attacked at a New York City restaurant in 2015 or the 20 known transgender people who have been killed so far this year. Seen as a whole, these attacks are part of a disturbing trend of anti-LGBT violence. 
Smith has set up a GoFundMe page to raise money to cover funeral costs. 
"Our hearts are broken by the loss of Danielle and Terri," she wrote on the page. "I am only asking people to help with what you can. I want to make sure they have a proper service. As her sister, this is the last thing I thought I would have to do. As her sister, I want to make sure that she and Terri are taken care of properly."
Sept. 15, 2016, 10:55 a.m. Eastern: This story has been updated.