Fifth Harmony's Normani Kordei returns to Twitter determined to stop cyberbullying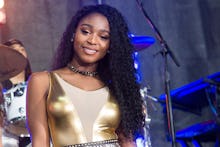 Fifth Harmony's Normani Kordei took over a month break from Twitter after seeing a spike in "horrific and racially charged" abuse — now she's back, stronger then ever and ready to tackle the pressing issue of cyberbullying. The 20-year-old singer revealed to her followers on Tuesday she's partnering with Cybersmile Foundation, a non-profit organization aimed at eradicating online harassment in all of its forms. She'll be taking on the role of diversity ambassador.
Online abuse has become a hot-button issue this summer, in the wake of attacks on celebrities like Kordei, Demi Lovato, Saturday Night Live's Leslie Jones and writers like Jessica Valenti. Women and people of color often face the worst abuse, and Twitter has been slow to address the issues, even though there are a plethora of steps it could take. Cue Kordei's attempts to take the power back.
In a video shared to her Twitter she reassured fans she was not dead, and asked them to share their stories dealing with abuse. She also offered some advice for how fans should look to stay positive in the face of hate. 
"The first step towards taking control is definitely pinpointing your emotions and knowing that it's okay to feel," Kordei said in the video. "I really took the time to feel and just go through all my thoughts throughout this month and a half or so that I wasn't on social media. It really made all the difference in the world."
In a follow-up statement posted to her Twitter, Kordei wrote, "It's important to stand up to all forms of bullying, and it's even more important for those who are around you to be just as courageous and stand with you! Together, we can put an end to the hate and promote only positivity and love."
Kordei originally stopped posting online on Aug. 6 after seeing an uptick in hate in her mentions. "I'm not the first black female celebrity to deal with this and I'm sure I won't be the last," she wrote. "I want to take this moment to say Love goes much further than hate in this world. Hiding behind a computer and putting people down, especially for the color of their skin doesn't make you cool, it makes you a coward!"
In her new role as a diversity ambassador for Cybersmile, Kordei will now work to help others who feel the same find support. "Share your stories with me through the hashtag #cybersmilestandsbyme," she said in her Twitter video. She also directed fans to the Cybersmile's website, saying "there's such a huge group of people that really do care about what you have to say about what you're feeling — including myself. Please don't feel afraid to reach out and know that ... I also stand by you."