'RuPaul's Drag Race All Stars 2' recap: Did Phi Phi O'Hara finally win a challenge?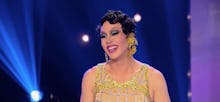 Phi Phi O'Hara has against all odds become one of the most interesting things about RuPaul's Drag Race All Stars 2. The season four villain's hunt for a better reputation has been hampered by what she calls a bad edit and her off-the-show drama, but those only raise the stakes.
For the former "tired-ass showgirl" and current cosplay queen, the road to redemption has been the hardest of all the contestants. But this week, she finally gets her moment.
She and season five queen Alaska dominate the challenge du jour, an acting challenge that pairs the queens off and has them perform in parody "shequels" to Showgirls, Thelma and Louise and Whatever Happened to Baby Jane. Meanwhile, Katya struggles to recover from her stumble last episode, Roxxxy Andrews lands back in the bottom and Alyssa Edwards hits her first misstep of the season.
Which queen goes home? And which queen sends her there after they lip-sync for their legacy? Read on to find out.
The show picks up just after episode three winner Alyssa's choice to eliminate Ginger Minj instead of Katya, despite Katya receiving the worst critiques of the group on her challenge performance. Alyssa defends her decision, to the frustration of Phi Phi, who seems concerned in confessionals that Alyssa could eliminate her after a future challenge.
Alyssa is confident in her decision, thinks Katya has been more consistent and wants to put the matter to rest. "We can all agree to disagree," she says. But the morning of their next challenge, Phi Phi is still mad, saying "Alyssa switched it up." 
Alyssa and Phi Phi argue for a bit before Katya finally shuts Phi Phi down. "She made the decision, she feels proud of it, I'm happy to be here," she says. "End of story."
RuPaul arrives in the workroom to give the girls their parody shequel acting challenge. When asked to pick partners, Alyssa quickly claims Alaska, while Katya avoids working with Roxxxy or Phi Phi and instead chooses Detox.
The episode moves at rapid pace, getting viewers to the runway at just 13 minutes in. Ordinarily, we don't see this segment until the last third of the episode. The runway theme is inspired by season seven winner Violet Chachki's famous tartan dress reveal — each look is two-in-one. Alyssa, Roxxxy and Phi Phi all do well with pretty dramatic reveals, while Detox and Katya's are less dramatic.
Alaska's is the clear winner, though. She comes out in what looks like a bizarre hazmat suit, but reveals that she's transformed herself into Lil' Poundcake! Back in season five, Alaska and another queen, Lineysha Sparx, created Lil' Poundcake for a pageant-themed doll decoration challenge. The profane and crude character won them the challenge, and it's a kick to see Alaska revive her three years later.
Alaska also thoroughly dominates the main challenge, too. Her performance as "Baby JJ" in their Whatever Happened to Baby Jane parody is fully committed and downright hilarious. Her work makes Alaska the first queen to hit the top two twice this season.
Joining her is Phi Phi, who outshines Roxxxy in a Showgirls parody. The Thelma and Louise skit, which recasts the women as zombies, is probably on average the best of the three, but neither Detox nor Katya shines as bright as Alaska or Phi Phi.
Alyssa hits the bottom three with Roxxxy and Katya, and strangely, the other girls repeatedly cite her in deliberations as getting the worst critiques from the judges. While it's true that Michelle Visage comes down hard on her, fellow judges Todrick Hall and Carson Kressley are positive about both the acting performance and the runway. Roxxxy is more roundly criticized for her performance, while Katya seems to be back in the bottom three solely because she wasn't as good as the top three.
The deliberations are fairly uneventful in this episode, save Phi Phi being the first queen since Tatianna in the season premiere to not have individual consultations with the queens in the bottom. Detox calls this "bitchy" in her confessional, and worries Phi Phi isn't getting the redemption she wants. "She's just kind of back to the way she was portrayed in season four," Detox says.
So Alaska and Phi Phi lip-sync for their legacy, and Alaska just wipes the floor with Phi Phi. The latter is sexy and sultry, but Alaska gets that this season, Ru is looking for personality at every turn. Still in character as Lil' Poundcake, Alaska gives "Got to Be Real" the freaky and funny treatment it deserves. Put simply, anyone could have done what Phi Phi did, but only Alaska could have done what Alaska did. 
Unfortunately for Phi Phi, her complete redemption must wait. Alaska wins the lip-sync — and her second $10,000 prize.
When it comes time to choose a queen to eliminate, Alaska laments having to send her "sister" home. She picks Alyssa, and it's kind of a surprise. The Alyssa's Secret star has been the breakout of the the season, hitting her peak last episode. Alaska even starts crying immediately after making her decision. Alas, the decision is made, and Alyssa sashays away.
But something is strange: This entire episode feels rushed, and Alyssa gets eliminated with five or so minutes left. We even get to see the after-elimination chat among the remaining queens, with Phi Phi trashing Alyssa repeatedly. 
Then, in a culmination of the revenge twist that's been teased after every elimination, the four eliminated queens, Coco Montrese, Tatianna, Ginger Minj and Alyssa appear in the mirror. (Since Adore withdrew, she does not return.) Alyssa warns that it's not over yet — will they have the chance to return?
If so, which queen will it be? How will this shake up the competition? And now that she has two wins, is Alaska primed to take the crown? The next episode of RuPaul's Drag Race All Stars will air next Thursday at 9 p.m. Eastern on Logo.