Can I watch the presidential debate online? Here's what to know and where to go.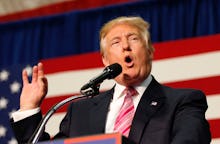 When Hillary Clinton and Donald Trump face off at Hofstra University on Sept. 26, there are sure to be millions of Americans watching them. In 2012, the first debate drew 67 million viewers — the most since 1980. The first debate will be moderated by NBC Nightly News anchor Lester Holt. The debate will not include Libertarian Gary Johnson.
Here's how you can watch the historic matchup between Trump and Clinton.
Television
The debate can be watched on major broadcast and cable news providers. CBS, NBC, ABC, C-SPAN and FOX will show the debate along with CNN, MSNBC and Fox News. 
_____________________________________________
Read more: 
Online
During the primary debates, CNN, Fox News and other providers offered live streams for viewers without a TV subscription. 
This time, the debates can be watched on Facebook through a partnership with ABC News. The Facebook live video will include the debates and live analysis from ABC's politics team. 
Other livestreams will be available on the school will school's website, CNN.com, Live News Chat and YouTube's Live channel.