Is Hillary Clinton or Donald Trump winning the election? Here's what the latest polls say.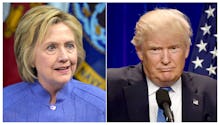 Hillary Clinton's six-point lead from a month ago has almost vanished as a new round of polls show Donald Trump close to the Democrat nationwide. Clinton's national lead is down to two points, according to poll tracking from RealClearPolitics.
The latest polls have Trump and Clinton about even in Florida, North Carolina and Ohio — all must-win states for the Republican nominee. But Clinton still has the edge with less than two weeks until the first presidential debate. Trump trails the former Secretary of State in New Hampshire and Nevada. And traditional Republican strongholds like Arizona, Georgia and Missouri have polls showing Clinton within the margin of error.
While election projections have tightened, Clinton is still the clear favorite among election analysts. The Upshot, FiveThirtyEight, Princeton, Cook Political Report and Sabato's Crystal Ball all have Clinton as a heavy favorite to win the election. This is mainly because the math is not in Trump's favor: He must win all the swing states and at least one state where polling shows Clinton is substantially in the lead, such as New Hampshire or Michigan.