On Amy Winehouse's 33rd birthday, Mark Ronson remembers singer's creative process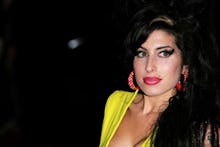 The world will likely never stop mourning Amy Winehouse. The further we get the more we understand how unique of talent she was, and similarly, the more valuable the words of those close to her become.
On what would be her 33rd birthday, her producer and confidant Mark Ronson shared with Fader a personal behind-the-scenes account of what went into Winehouse's groundbreaking album Back to Black. From refusing to change her lyrics for commercial appeal to her sweet, soft nature that shone through during recording session, Ronson portrays sides of Winehouse mainstream audiences and close fans never had the opportunity to experience. As the 2015 documentary Amy illustrates, publications were a lot more interested in broadcasting her meltdown than engaging with her artistry. Ronson's flattering portrait only further proves there isn't any other artist quite like her. 
"Amy was so serious about her words," Ronson remembered. "When she first sang the chorus [to 'Back to Black'], she said, 'We only said goodbye in words/ I died a hundred times.' My producer instinct went off and I said, 'Hey, sorry, it's got to rhyme. That's weird. Can you fix that?' And she just looked at me like I was crazy, like, 'Why would I fix that? That's what came out.' They're some of the most unlikely lyrics you could ever imagine on a massive pop single."
Winehouse was far from the persona the media found in her: a tumultuous, troubled girl whose voice sounded like it were made by the stories of a million broken hearts. Instead, Ronson describes Winehouse as "so charming" everywhere she went: a spontaneous, beautiful character. Winehouse lived on a whim and made everywhere she went feel warm. 
"She was overtly sexual and playful — there was never a notion that something was really going to happen, but she had to let you know that if she wanted it to, it would happen," Ronson continued. "One time, I must've fallen asleep — we had this little bench — and I woke up, and my head was in her lap, and she was just stroking my hair as if I were her little boy."
Winehouse died at 27 years old from accidental alcohol poisoning after a long battle with her addictions. By then, Winehouse was a force to be reckoned with: She had earned herself a spot in the Guinness Book of World Records for most Grammy awards won by a British female act, her album had gone platinum five times over in 2007 and she received numerous other accolades and praise. Despite her failed marriage, numerous violent altercations, run-ins with the law and a tendency to loathe the paparazzi and star power behind her, the singer remained on the rise, largely thanks to the sheer brilliance and individuality of her music.
"When she came for her first promo tour to New York, things were starting to build but weren't crazy yet," Ronson said. "I remember seeing her walk down the street on the way out, walking on top of the yellow lines. It was one of the last times I saw her carefree and anonymous. It was really a lovely day."
Read Ronson's full account here.
Correction: Sept. 14, 2016