Newport, the top cigarette brand for black Americans, is aggressively targeting youths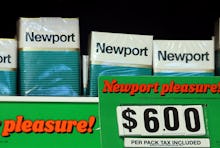 The racial marketing tactics used to sell menthol cigarettes have a controversial history. Now, the most popular menthol cigarette and top brand among black smokers — Newport — is going all-out to target young people, too.
On Tuesday, the African-American Tobacco Control Leadership Council petitioned President Barack Obama to more stringently regulate menthol cigarettes: Studies suggest they may actually be more harmful than regular cigarettes — making this an issue of social justice, the council argued.
But new reports suggest the top company for menthols is just digging deeper.
Reynolds American Inc., the parent firm that owns Newport, is pushing the brand on people in their 20s — with pop-ups at music festivals like Las Vegas' Electric Daisy Carnival, a notorious destination for teen-partiers, which was recently pressured to raise its age requirements. 
Dubbed "Newport Pleasure Lounges," the air-conditioned party trucks are replete with games like digital darts. Most appealingly, perhaps, is that Newports can be purchased in these lounges for $1 per pack. Reynolds has set aside $50 million for such initiatives in 2016. 
Targeting vulnerable demographics is not an unusual tactic for menthol cigarette companies: As researcher and tobacco industry specialist Valerie Yerger at the University of California, San Francisco, told the New York Times, documents revealed these companies have historically focused on selling to low-income neighborhoods densely populated with black Americans. 
The strategy has proven successful. 
Eighty percent of black smokers smoke menthols — and a black smoker is 400% more likely to smoke menthols than a white smoker. Furthermore, Newport is the brand of choice for nearly 60% of black smokers.
According to the American Lung Association: "Black men and women are more likely to develop and die from lung cancer than persons of any other racial or ethnic group."
In 2011, the Food and Drug Administration's Tobacco Products Scientific Advisory Committee published a report stating menthols may be more addictive than regular cigarettes, particularly amongst young people, and therefore harder to give up. 
The TPSAC wrote that the "removal of menthol cigarettes from the marketplace would benefit public health in the United States."
That same year, Reynolds and Lorillard (the company which owns Newport, and is now owned by Reynolds), sued the FDA, claiming the report was unfair and served special interests, according to the Wall Street Journal. 
While it looked for a moment that the FDA might ban menthol cigarettes altogether, something happened: the campaign quietly petered off — and appears to have stalled. 
Tobacco industry lobbying has a long history of influencing the FDA's reach.
Organizations like the AATCLC contend that the government should ban menthols precisely because they disproportionately hurt vulnerable populations, like young people and minorities.
At a minimum, advocates say, there should be regulation — they point out that it's inconsistent and confounding for menthol to be regulated in medicinal products, but not in cigarettes.
And in a way, the AATCLC argues, menthols are another affront to the Black Lives Matter movement.
"Our children deserve protection from the police," Carol McGruder, AATCLC chairwoman, told the New York Times. "They deserve protection from the deadly silent predator: the tobacco industry."
That industry wields lots of power: Newport is the second most popular cigarette brand in America.