Is iOS 10 not working or "bricking"/freezing your phone? Here's what's going on.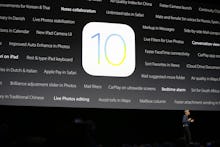 The highly anticipated iOS 10 update caused major issues for some iPhone users following its launch on Tuesday afternoon. The new software — which overhauls elements of messaging, Siri and Apple Music, among other features — drew widespread complaints on social media, with some warning to delay downloading until Apple sorted out the problem.
Many reported that iOS 10 "bricked" their phone upon installation, which led to an error message instructing users to restore their devices via iTunes. That procedure requires iOS devices to be plugged into a Mac or PC via USB and some may be reasonably concerned that data loss could incur.
Apple claims to have corrected the issue, telling the Verge in a statement: "We experienced a brief issue with the software update process, affecting a small number of users during the first hour of availability. The problem was quickly resolved and we apologize to those customers."
Users who are still experiencing problems while attempting to install iOS 10 can visit the Apple Support page for instructions on how to restore their devices in recovery mode via iTunes. 
Despite the early troubles, thus far, iOS 10 has been widely praised for its new features, including interactive iMessages and newly designed Music and Photo apps.