A 69-year-old protester got punched in the face at a Trump rally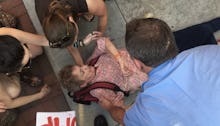 Although 69-year-old Shirley Teeter is no stranger to political protests, getting punched in the face at a rally for Donald Trump was a first.
Teeter, who has chronic obstructive pulmonary disease and requires an oxygen tank to help her breathe, told the Citizen Times that she had left her home in downtown Asheville, North Carolina, to protest the Republican presidential candidate.
As attendees began filing out of the U.S. Cellular Center, Teeter recalls telling them, "You better learn to speak Russian" — a reference to Trump's controversial relationship with Russian President Vladimir Putin. That's when a man in front of her turned violent.
"He turned around and just cold-cocked me," she told the Citizen Times.
The Citizen Times reported that North Carolina police have since obtained a warrant for the arrest of one suspect in connection to Teeter's assault.
Smartphone footage captured at the scene allegedly shows the immediate aftermath of the punch, including people chasing down a man whom they believed to be the assailant, the Los Angeles Times reported.
Though Teeter did not sustain any serious injuries, she was taken to a nearby hospital and released early hours of Tuesday morning. She told the Citizen Times she was suffering from jaw pain, a scraped elbow and rib pain.
"People need to know what state of agitation he puts people in," she said, referring to Trump.
The violence among attendees during the Monday rally wasn't limited to the area outside the arena. 
According to BuzzFeed, a clash broke out inside the venue when a supporter in a gray shirt slapped and shoved several female protesters as they were being escorted out of the arena by security.
Trump briefly addressed the disturbance from the stage, the Citizen Times reported; the presidential hopeful asked the crowd, "Is there anywhere in American more fun to be than a Trump rally?"