Thank the Old Gods and the New, Gendry might finally be returning to 'Game of Thrones'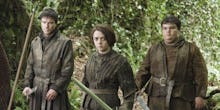 There are so many characters in Game of Thrones that some will be left offscreen for a while for the sake of the plot — like when Bran Stark and Hodor took all of season five off. But Gendry has been missing for so long that his face should be plastered on milk of the poppy bottles across Westeros. And yet, a new photo gives hope that he may be returning.
A quick refresher for those who forgot: Gendry — once the centerpiece of endless Tumblr fanfic between him and Arya Stark — was last seen at the end of season three, when Ser Davos helped him escape Dragonstone before the Red Priestess Melisandre would've offered him to the Lord of Light. Davos gave Gendry a rowboat, and so Gendry presumably rowed back in the direction of King's Landing, and hasn't been seen since. 
Six seasons in, however, fans might understandably assume Gendry's story is aboard the series' "SS Abandoned Plotlines," as Reddit likes to call it. 
But there's new hope for Gendry's return. Game of Thrones fan site Watchers on the Wall, which spotted actor Joe Dempsie in Belfast, Northern Ireland. That's where part of the series is filmed — specifically, the North, which would pit Gendry far beyond King's Landing, and potentially put him in the path of Arya Stark once more (fanfic writers rejoice!). 
Of course, this news isn't official, as the actor visiting Belfast doesn't inherently mean he's returning to the show. Sibel Kekilli, who played Shae in the show, was spotted on set last year, but wasn't part of season six. Plus, Jason Momoa was spotted in Belfast in August, prompting speculation, but he was apparently there just to make his own Guinness brew. 
Game of Thrones likes to keep things close to the chest, so fans likely won't know about the character's return until it happens next season. That said, the prospect of Gendry finally coming back to the show — and possibly reuniting with Arya — has the Twitterverse in a frenzy.