The woman who accused Derrick Rose of rape made a heartbreaking case for anonymity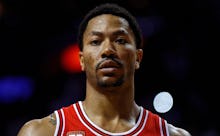 Once again, a woman who reported her rape is fighting to keep her identity private — and once again, the accused is complaining about his damaged image. 
The woman who accused NBA star Derrick Rose and two of his friends of drugging and raping her in 2013 has made every effort to remain anonymous. It was a choice she made to protect herself and her family from outsized scrutiny, she explained in an exclusive interview with ThinkProgress, published Wednesday. 
Meanwhile, the defense thinks that media attention should be a two-way street.
Doe filed her lawsuit in Aug. 2015. In the suit, Doe alleged that in 2013, Rose and two of his friends — Randall Hampton and Ryan Allen — drugged her, then later trespassed in her home and raped her, according to the White Bronco. Doe's has become a case of he-said-she-said, in which Rose's lawyers have attempted to force her to reveal her identity. 
In speaking to ThinkProgress, Jane Doe reminded survivors that they can hold onto their dignity while still telling their story; that "coming forward" doesn't have to mean inviting "more suffering and more worry" into their lives. Because rape on its own is more than enough to deal with.
But according to the White Bronco, Rose's defense team has argued that if Rose's name is made public, then his accuser's should be, too — that it is only "fair" for Doe to endure the same close examination by the media as Rose does. 
It's not an unfamiliar argument. In fact, it's the same one St. Paul's School in Concord, New Hampshire, recently made in attempting to make public the name of the student who accused Owen Labrie of sexually assaulting her when she was a freshman and he was a senior. The elite prep school argued that anonymity should work both ways, as media attention was tarnishing their image. 
The victim, Chessy Prout, eventually came forward on her own, explaining in an exclusive interview on Today that she wanted to show other survivors that "they don't have to be ashamed" of what happened to them. 
The act of saying "this happened to me" is a very powerful thing, but it's a hard one to do in practice. This is because, as Jessica Valenti wrote for the Guardian in 2015, "anonymity in the media protects them from the very tangible – and often horrible – ramifications of coming forward." 
When a person says publicly that they were raped, they often suffer consequences: harassment, retaliation, "victim blaming, smear campaigns," in Valenti's words, and all of this on top of having to recount the incident in vivid detail and field endless questions about it. Approximately two-thirds of sexual assaults go unreported, and the most frequent reason victims don't report these incidents, according to the Rape, Abuse & Incest National Network (RAINN), is fear of retaliation. 
Doe has some thoughts of her own on why rape victims don't report. As she told ThinkProgress, reporting one's rape can be as traumatizing as the rape itself, which is saying a lot — according to RAINN, 94% of rape survivors develop post-traumatic stress disorder (PTSD) 33% consider suicide and 13% actually attempt it. 
The victim will always know what happened — the world doesn't necessarily need to, Doe explained. 
"I think people stay silent because they don't want to have to deal with everyone finding out, like, 'hey, this happened to you,' now I'm a victim," she reportedly said, crying. "Now I have to walk around with a 'damaged' label, being broken and this and that. You don't want that. Who can deal with that on top of everything that happened?" 
Doe has also been adamant about keeping her name and image out of the media because she wants to keep the news from her family, potential employers and people she meets in her everyday life. She wants to be able to dissociate from the label of "rape victim" and move forward as much as she can.
For her — and for many other survivors — staying anonymous helps make that possible.