Wal-Mart is linked to US obesity crisis, but will open deep-fried food restaurants anyway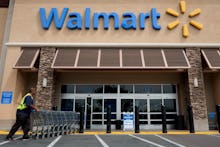 It's one small deep-fried step for Wal-Mart and one giant leap backwards for America's obesity epidemic: Wal-Mart plans to house a State Fair of Texas-themed restaurant in many of its locations nationwide, the Dallas Morning News reported. 
Called State Fair Treats, the restaurant will serve a 45-item menu that celebrates "the treats families enjoy every year when they make an annual pilgrimage to the fair," the publication noted, citing a news release.
So what can customers expect? Well, the state fair is notorious for its truly gluttonous food offerings, including deep-fried everything, and State Fair Treats will not stray far from this tradition. One of the star dishes of the 2015 fair was the Deep-Fried Cheeseburger Basket: a cheeseburger topped with bacon, french fries and onion rings, all wrapped in a flour tortilla and deep-fried. 
(Above: a deep-fried bacon burger dog slide on a stick, a mouthful in more ways than one.)
But here's the beef: According to a 2015 paper, Wal-Mart's expansion may have added weight to the country's obesity crisis, the Washington Post reported then. Wal-Mart pioneered food distribution methods that made it possible to sell junk food in bulk at very low prices. 
In recent years, Wal-Mart has worked to re-market itself as a company that cares about the health of its consumers. The company penned blog posts about eating healthy for cheap, and the New York Times noted in 2012 that Wal-Mart lowered the prices of its fresh fruit and vegetables and added "great for you" labels to many of its items. The addition of a state-fair-themed restaurant that offers deep-fried foods at affordable prices is immensely contradictory to the health initiatives.
Isaac Rousso, the man working with Wal-Mart to launch State Fair Treats, is a popular concession stand operator at the fair, news outlet WFAA noted. A number of his creations — including his Cookie Fries, Smoky Bacon Margarita, Deep-Fried Cuban Roll and Fried Pop Tart — have won in the fair's Big Tex Choice Awards. Since he's the brains behind the whole thing, customers can expect plenty of over-the-top, oil-slicked atrocities in addition to the corn dogs, funnel cake fries and deep-fried, bacon-and-cheddar-stuffed hash browns Rousso plans to sell at the restaurant, the Dallas Morning News said. 
The first State Fair Treats will open inside of a Walmart in Plano — just outside of Dallas, where the fair is held each year, WFAA said. This is just the start of deep-fried apocalypse, though: There are more restaurants planned for other North Texas Walmart locations in the next year. 
Wal-Mart is ripe on less-than-stellar concepts lately — from its decision to sell deep-fried Twinkies kits to its thoughtless twin tower Coke display — but opening a restaurant dedicated to fried foods has the potential to be the most damning. If anything, it's definitely one the grocery chain's most irresponsible choices. 
Approximately 160 million Americans are considered either overweight or obese, according to the Institute for Health Metrics and Evaluation. 
And hey — 140 million customers walk through the doors of a Walmart every week, the Dallas Morning News reported in 2013. Selling these folks hot funnel cakes, a 760-calorie food, counteracts Wal-Mart's health initiative. Consuming fried foods, unsurprisingly, has been associated with obesity, and being obese can increase a person's risk for Type 2 diabetes and stroke.
If Wal-Mart truly cared about the well-being of its customer base, perhaps it would add salad bars to its stores instead.