Who would ever wear this shit?: NYFW Edition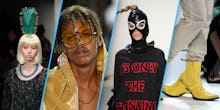 New York Fashion Week is supposed to be a celebration of beautiful, innovative and sometimes even mind-boggling fashion. Designers from around the world gather to show off their latest duds, hoping the crowd will go wild and their name will be plastered all over the internet. 
However, that doesn't mean that all the clothes at fashion week are gorgeous gowns in flow-y fabrics and flattering silhouettes. Not at all. 
Sure, there was the Monique Lhuillier show, the Marchesa show, the Vera Wang show and the Tom Ford show — all of which were stunning — but you don't really ask a million questions to yourself when you see a dress like this glide down a runway. You kind of just think, "Beautiful. Amazing. I want." 
Know what's really exciting? The ugly shit. The stuff that makes you ask the question, "Who's going to wear that?" The stuff that makes you go, "Really? What in the hell?" 
So, in celebration of those looks, here is a collection of some of the most WTF fashions at NYFW, which ends on Thursday. Oh how we'll miss it. 
These fucking shoes  
And you thought Uggs were a problem? 
At Hood By Air's show at NYFW, models walked down the runway wearing two-sided cowboy boots. Although they'd be great for an alien trying to hide its secret tentacles, there is no perceivable reason for this, right? 
Can you walk backward easier? Can you walk forward easier? Why, HBA? Why? 
These fucking sunglasses 
Hood By Air's just trying to screw with all of us, right? (The show was sponsored by PornHub, so maybe quite literally yes.) During the show, which also featured models covered in a strange white liquid, models walked out wearing sunglasses that looked like a Venn diagram. 
The reaction of the model on the left above is ours as well. 
These fucking shoes too 
We never thought we'd see the day when high fashion did its own spin on the toe shoe, and yet here we are. 
The label Threeasfour sent models down the runway walking in the shoes that your weird uncle who never runs seems to always wear to the grocery store. Usually, they make you look like a dinosaur, so these shoes merely make you look like a slightly richer dinosaur. 
These fucking sunglasses, also 
These aren't quite Hood by Air, but still nearly unwearable. Xuly Bet is usually known for wild prints and urban athletic wear, so these sunglasses that make you look like Kanye West in 2004 or Santigold in the "Lights Out" video seemed just a bit out of touch. 
But these would be great to wear if you are expecting to run into your ex or trying to check someone out.
We'll let you decide. 
These fucking masks 
These masks were shown during the Ikumi show and ... no. 
Nope. 
Absolutely not. 
No. 
Just no. 
These fucking hats 
Is that a cactus on your head or are you just happy to see me? 
(Sorry — had to.)
These honest-to-god cartoon cactuses were worn on the heads of some models at the Daydream Nation show at NYFW. Although we're all for a bit of imagination, the cactuses seem to be sprouting out for no reason at all. It's not like the models are dressed as tumbleweeds or cowboys. They're dressed like delicate ladies, but with cactuses sprouting out of their heads. 
This entire fucking outfit 
Why do you want women to look like shiny buttons, Jeremy Scott? Why do you want to give women yet another unrealistic expectation for what they should look like?
Whatever this fucking is
One word to describe Namilia's designs? Subtle. Just kidding.
During this show on Saturday, models walked out in bras made to look like penises, entirely rubber outfits and face masks. On some fabrics, for reasons that are still unknown, there were the faces of the members of One Direction. 
We guess the theme was like sex and ... the medieval era? But my god, who even knows. 
Thankfully though, fashion is a big enough world where pieces like this Vera Wang pearl-encrusted dress and those bondage-inspired medieval ensembles can exist in the same universe. There really is a little bit of something for everyone. You could even wear a shimmery Marchesa dress paired with Hood By Air's two-sided shoes. Or a tight, sequined Tom Ford gown with one of those terrifying white masks. 
You can do whatever you want, but if it were up to us, we'd leave the cactus hats in the closet.