The new 'Trolls' trailer with Justin Timberlake is heavy on the music and feels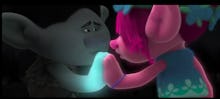 DreamWorks dropped another trailer Wednesday for its upcoming animated movie Trolls. In the trailer, stars Justin Timberlake and Anna Kendrick share their thoughts on their respective characters and the music. 
Kendrick plays the eternally joyful Poppy, while Timberlake's Branch is a pessimistic troll — which is apparently uncommon for the fictitious species based off of the plastic dolls owned by DreamWorks. Therefore, in the tradition of The Lego Movie, there's probably going to be a lot of product placement within an otherwise beloved movie.
The trolls' existence is put in danger by the Bergens, who feast on the trolls. Per the trailer, the only way the trolls can save themselves is through song. 
To that point, Timberlake's summer hit, "Can't Stop the Feeling," was made for the movie, and was subsequently teased again in all its uplifting glory. Kendrick — who has already shared her singing prowess in two Pitch Perfect films — added she feels music and animated films are intrinsically connected.  
"It's so wonderful to get to voice these characters, and I think music adds so much to animation," Kendrick says. "It just feels like they belong together." 
Watch the new trailer for Trolls, which arrives in theaters in November, below.