Trump vs. Clinton debate: Here's where you can watch live online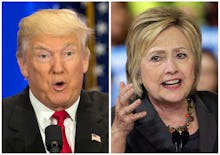 Will the first presidential debate between Democrat Hillary Clinton and Republican Donald Trump be the most-watched debate in history? Some political analysts think so.  
"It could be bigger than the Super Bowl," New York-based political consultant Susan Del Percio told the New York Post. This year's Super Bowl drew a whopping 112 million viewers, the third-largest audience in NFL history, according to CNN.
The major new networks will carry the debate live. But if you cut the cable cord, there are still several ways to watch. The first of three debates between Trump and Clinton is scheduled for Sept. 26 from 9 p.m. to 10:30 p.m. Eastern at Hofstra University in New York.
_____________________________________________
Read more: 
The school will share a link to a livestream on its website here. And CNN.com is expected to stream the debate as it has in the past.
There are other sites that will offer livestreams of the first debate between the two candidates, including Live News Chat and YouTube's Live channel.
C-SPAN will also carry the debate live on its website. And several news outlets will likely share a feed of the debate as it happens on Facebook Live.
The debate will be moderated by NBC News' Lester Holt and will be divided into six segments of 15 minutes each "on major topics to be selected by the moderator and announced at least one week before the debate," according to the Commission on Presidential Debates.
The second debate is scheduled for Oct. 9 at Washington University in St. Louis, moderated by CNN's Anderson Cooper and ABC News' Martha Raddatz. It will be in the form of a town-hall meeting.
The third and final debate will take place on Oct. 19 at the University of Nevada, Las Vegas, and will be moderated by FOX News' Chris Wallace. It will have the same format as the first debate.
Vice presidential candidates Democrat Tim Kaine and Republican Mike Pence are scheduled to debate on Oct. 4 at Longwood University in Farmville, Virginia.