Snacks: The unseen style star of New York Fashion Week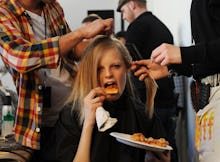 As New York Fashion Week wraps up in Manhattan, New York, models, stylists and designers around the city are unwrapping their last NYFW bites. While the biannual event focuses on all new clothing to hit the runways, behind every model strutting the catwalk is a good snack.
We know: Models and eating don't always seem to pair together, but take it from a backstage snack swiper, the food is there and fashion people running all over the city need to fuel up. Beyond the baguettes that debuted in tote bags with Libertine's newest collection (perhaps a first for food on the NYFW runway), here are the snacks that New York's fashion elite scarfed down during the super stylish week. Off-runway looks may not be on your shopping list, but these snacks are always in style.
Magnum bars backstage at Rebecca Minkoff
Magnum New York, a summer DIY ice cream bar pop-up, converted into luxe backstage for Rebecca Minkoff's outdoor show in SoHo. Models could indulge in a special ice cream creation: the Stylist. The chicest ice cream bar in all of New York was made with vanilla bean ice cream dipped in dark Belgian chocolate, styled with midnight black pearls, Greek yogurt buttons, blush blossom curls, a dash of Hawaiian black lava sea salt and accessorized with a white chocolate drizzle, a Magnum spokesperson said in an email.
St. Ambroeus Baguettes at Libertine
What better way to style a bag than with fresh bread? Some of Libertine's models walked down the runway with baguettes freshly purchased at nearby New York hot spot St. Ambroeus. Sources say some were also eaten by models after the show.
Mysterious Snack Tray at Zac Posen
Models prepare for the Zac Posen runway show with snacks and apps from an as-yet unidentified source. Notice how the veggie plate is full but the potato chip container is half-empty? Chips are in style, people.
A Beautiful Breakfast Spread at Vera Wang
New York City caterer and food stylist Nicole Rutsch prepared an elegant backstage breakfast of fruit salad, croissants, scones, organic yogurt with granola, a kale and mushroom frittata and more seasonal brunch dishes for models and stylists to munch on while preparing for the show Tuesday, she wrote in an email.
Canned Coffee and baked goods at Club Monaco
While presenting Club Monaco's Fashion Week collection, models stood stoically in Grand Central Terminal's Vanderbilt Hall, but guests were treated to a food court of snacks. Los Angeles' Gjusta popped up with homemade jars of jams to be paired with crusty loaves from Brooklyn's She Wolf Bakery. Cookies from Christina Tosi's beloved Milk Bar were available by the handful and Le Colombe passed out cans of cold brew and draft lattes. More of a feast than a fashion show, Club Monaco did NYFW right.
McDonald's and 7-Eleven at Alexander Wang's after-party
Though we can't find evidence of any McDoubles munched backstage at Alexander Wang's show, his blowout after-party was a junk food extraordinaire, complete with a pop-up McDonald's and 7-Eleven stocked with all the chips, candy and slurpees guests could grab.
Compartes S'mores Chocolate at J.Crew
J. Crew's presentation at Spring Studios employed staff and friends of the brand instead of models. And in true non-model-like behavior, the presentation ended with a stylish Compartes campfire s'mores bar in a very J. Crew hand painted tote. It was a very good chocolate bar.
Juice Press for Karlie Kloss
Though she was probably paid enough to actually be able to afford $12 bottled smoothies, supermodel/New York University student Karlie Kloss showed off her love for Juice Press on Snapchat throughout NYFW.
And this tiny taco...
Who even knows, really.