Kid Cudi blasts Drake, Kanye West in epic Twitter rant: "The days of the fuckery are over"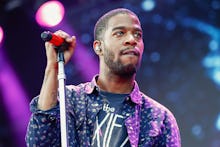 Kid Cudi has been keeping his head down for some time now, keeping out of hip-hop's spotlight. Wednesday, the rapper broke that silence in a huge way, calling out some of his closest longtime collaborators, such as his "big bro" Kanye West, Drake and all the "fake ones" who are "talkin' top five and be having 30 people write songs for them." 
"I need yall to know I got so many haters within the industry and these clowns know Im bout to crush their entire existance," he said to start up a rant fit to rival some of West's most vitriolic. But Cudder's isn't coming from a place of anger per se, as he writes — this is Cudder's creative, competitive spirit speaking. Judging by past tweets, he's been putting the finishing touches on his next studio album, Passion, Pain & Demon Slayin', and he's coming for the throne.
"I keep silent because I don't ever wanna come off like some angry hater," he explained. "Today, not only do I feel fantastic, I'm feelin' like taking over." 
"My tweets apply to who they apply," Kid Cudi began. "Ye, Drake, whoever. These niggas don't give a fuck about me. And they ain't fuckin with me."
Kid Cudi has long shared a rather tumultuous relationship with Yeezy. West played a big role in Cudi's initial commercial success, when the Chicago hitmaker became a mentor to the budding artist. Cudi signed to his G.O.O.D Music Label before splitting off in 2013. Most recently, he lent his vocals to West's The Life of Pablo, telling Billboard, "Me and Kanye are brothers. With family, there's always going to be issues and shit."
"Niggas keep you close when they see how powerful you are by yourself. When they see your greatness. Out of fear," Cudi tweeted, adding, "I've been loyal to those who haven't been to me and that ends now. Now I'm your threat."
Cudi specifically takes issue with rappers who rely on huge writing teams. There are a ton of rappers this could fit, but none perhaps more perfectly than Drake and West. In 2015, Drake also sparked a massive debate in hip-hop after Meek Mill called out the Toronto star for relying on reference tracks provided by Quentin Miller. Similarly, West's "All Day," relied on 21 writers and producers to craft a song that essentially rhymes on one word for five minutes.
Ironically, the entire ordeal sounded like Cudi took a page right out of Yeezy's book of Twitter ranting etiquette. He shouted his friends and those he respects, before digging right back into his haters and ending on an impossibly grandiose note.  
"All you jealous chicken-hearted shits, I see you too," he elegantly penned.
 "I am the culture," he decided. 
Shots have officially been fired, but Cudi wants to let the music speak. It seems that the forthcoming album, due later this month, is set to be an 18-track, 90-minute-long monster, according to the artist.