Rep. Steve King links Colin Kaepernick to ISIS just because his girlfriend is Muslim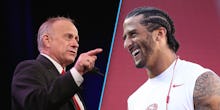 Iowa congressman Steve King, who laughably believes white people contributed the most to civilization, went after Colin Kaepernick on Tuesday by claiming the San Francisco 49ers quarterback's activism is "sympathetic" to ISIS.
"I understand that he has an Islamic girlfriend that is his fiancée, and that this has changed him and has taken on some different political views along the way," he told Newsmax TV's Steve Malzberg. "This is activism that's sympathetic to ISIS." 
Since Aug. 14, Kaepernick has protested against police brutality and racism by sitting or kneeling down during the national anthem. Since then, conservative media and right-wing pundits have stirred up absurd conspiracies by alleging that he converted to Islam and accusing his "Communist-sympathizing Muslim girlfriend" Nessa Diab, an MTV host, of being the architect behind the protest.  
Diab has been outspoken about Kaepernick's protest. On Aug. 28, she tweeted her support for her beau. 
When discussing Kaepernick's first amendment right to peacefully protest during the national anthem, King — who proudly displays a confederate flag on his desk — also said, if he were coach, he wouldn't allow Kaepernick to play on the field again unless he begged for forgiveness. 
King and some right-wing media outlets are attempting to use Islam to discredit Kaepernick's patriotism. Furthermore, they are attempting to criminalize an act of peaceful protest by associating it with terrorism. But perhaps even more frightening, they are conflating Islam with terrorism when the religion has absolutely nothing to do with the latter.
Khaled Beydoun, an associate professor of law at University of Detroit's Mercy School of Law, said this is a clear effort to silence free speech.
"First, because of his appearance and later based on his romantic relationship, Kaepernick has been wrongly linked to terrorism," Beydoun said in an email interview. "This is more than just an attempt to silence his free speech, but for some politicians, [it is an attempt to] conflate constitutionally protected dissidence with involvement with terrorism."
If King and company are so aggressively associating Kaepernick's nonviolent protest with terrorism, then they should make the same comparison to White Lives Matter protest rallies and their Confederate flag waving. 
You can watch King's full segment here: