'Metal Gear Survive' TGS 2016 livestream: Where to watch Saturday's gameplay demo online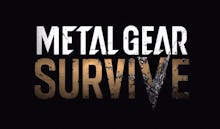 Konami will reveal the first Metal Gear Survive gameplay footage in a live broadcast from the Tokyo Game Show this Saturday, Sept. 17. 
IGN reports that Konami's official YouTube channel will showcase a teaser that "will include brand new information about the upcoming title" beginning at 4:15 JST (3:15 a.m. Eastern, 12:15 a.m. Pacific). 
Longtime fans of the Metal Gear series are anxiously awaiting the latest installment, which is the first development in the wake of series creator Hideo Kojima's allegedly bitter departure from Konami. 
That's not all — Metal Gear Survive marks a radical shift from the series' traditional narrative structure. Set immediately after the events of Metal Gear Solid V: Ground Zeroes — but in an alternate reality — Survive plays as four-player co-op game in the vein of fellow zombie shooter Left 4 Dead.
No specific release date has been confirmed at this time of writing, but the game is expected to release sometime in 2017. Take a look at the trailer for Metal Gear Survive below: