'America's Got Talent' finals 2016: Watch the 10 finalists before the show picks a winner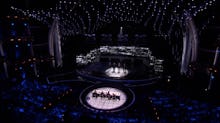 America's Got Talent is gearing up for its season finale Wednesday night, with one of 10 acts walking away with $1 million. Tuesday the final 10 performed in one last shot to win America's favor.
The pack of ten performers are some of the most diverse talents in the show's history. Singers of all types, contortionists, mimes, mentalists and magicians — the show has one of just about any kind of a performer one could find on the Las Vegas strip. The winner will get the opportunity to headline a show there if they win, but there can only be one.
Check out the each of the performers' sets from Tuesday night below ahead of tonight's finale.
Sal Valentinetti (jazz singer)
A longtime fan favorite, Valentinetti's Frank Sinatra-inspired sound and image made him a stand out vocalist in the show's eleventh season. Tuesday he performed a moving rendition of "Mack the Knife," a standard made famous by Bobby Darin and Ella Fitzgerald.
Tape Face (comedic mime)
Things got ... strange during Tape Face's mind-bending mime show on Tuesday night. For one, he placed a toilet on top of Mel B's head. He briefly played with horse puppets, for another.
Jon Dorenbos (magician)
Philadelphia Eagles snapper played his deck of cards just right on Tuesday, wowing the crowd with his tricks. The magical performer also used his set to offer a message on finding happiness in life.
Grace VanderWaal (singer)
VanderWaal's vocals are the perfect blend of pop and modern-folk, and they shined on her original, anti-bullying song that could easily fit on Taylor Swift's or Regina Spektor's next album. The singer has grown tremendously over the course of the season, and yet her charm remains as unique as ever. 
Laura Bretan (opera singer)
Bretan's ability to make opera music turn heads amongst a crowd of contortionists, magicians and mimes is worthy of some serious praise.
Linkin' Bridge (singing group)
Linkin' Bridge has repeatedly wowed the judges with their incredible arrangements of an eclectic range of music. Tuesday night showed the pack singing Wiz Khalifa's "See You Again" in four-part harmony.
Sofie Dossi (contortionist)
The teenage contortionist continues to shape her performances into an enticing, eye-catching and heart-racing medley of physical displays. Tuesday night's performance included a series of body bends that had audiences hailing her unreal physical capabilities.
The Clairvoyants (mentalists)
The pair was given their chance to impress audiences with their incredible ability to know exactly what's inside people's pockets, wallets and minds. The two nailed every single prediction they made during their performance.
Brian Justin Crum (singer)
Crum's rendition of Michael Jackson's "Man in the Mirror" was the summation of an incredible season for the budding vocalist. He's an LGBT artist who has transcended genres and captivated the hearts of men and women alike. His incredible range was on display more than ever Tuesday night.
Viktor Kee (juggler)
Kee appeared to juggle without the use of his eyes during Tuesday's finale. Surrounded by flashing lightning and a bubbling volcano, he looked like a primordial god among mere mortals.
Wednesday night's season finale of America's Got Talent airs Wednesday night on NBC at 8:00 p.m. Eastern.