Donald Trump gets shut down during appearance at black church in Flint, Michigan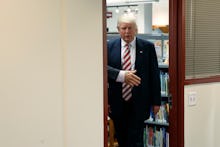 A reverend at an African-American church in Flint, Michigan, shut Republican presidential nominee Donald Trump down during a visit to her church Wednesday afternoon after he began to attack Democratic nominee Hillary Clinton, telling the Republican nominee he was not invited there to give a political speech.
"Hillary failed on the economy just like she has failed on foreign policy, everything she touched didn't work out. Nothing," Trump began to say.
Before he could continue, Rev. Faith Timmons walked onto the stage and cut off his remarks.
"Mr. Trump, we invited you here to thank us for what we've done in Flint, not to give a political speech," Timmons said as she walked on stage, receiving a round of applause from the audience.
Before Trump spoke, Timmons had handed reporters covering the event a letter in which she clearly laid out the reason for allowing him to speak before their congregation.
"Trump's presence at Bethel United Methodist in no way represents an endorsement of his candidacy," Timmons wrote.
"We cannot let this story drift from national attention for any reason," she added.
Before speaking at the church, Trump took a tour of a now-shuttered water treatment plant in Flint that was responsible for the lead-poisoned water that's become a crisis in the city.
After the tour, Trump thanked the "very, very good executives" at the plant, according to reporters in Trump's press pool.
Clinton, for her part, has made the lead water crisis in Flint a cornerstone of her campaign.
She visited multiple times during the primary, earning the endorsement of the city's mayor.