Hillary Clinton's doctor pronounces her "fit to serve" as she releases new health details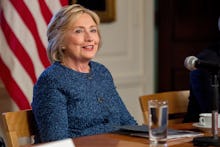 Hillary Clinton's campaign released Wednesday new information about the former secretary of state's health, days after she was diagnosed with pneumonia.
The letter from Clinton's doctor, Dr. Lisa Bardack, stated Clinton "continues to remain healthy and fit to serve as president of the United States."
Bardack said Clinton was diagnosed with pneumonia after a chest CT scan Friday found "mild, noncontagious bacterial pneumonia." Bardack put Clinton on a 10-day course of the antibiotic Levaquin and said she "continues to improve."
Bardack also wrote Clinton is in "excellent mental condition" and is "recovering well." 
The disclosure of the medical information comes after Clinton became "overheated" and struggled to stand Sunday after a 9/11 commemoration. Hours later, the campaign disclosed Clinton's pneumonia diagnosis for the first time, prompting critics to question Clinton's commitment to transparency.
On Wednesday, Donald Trump revealed new details about his health during a taping of the Dr. Oz television show. 
Clinton canceled events for the first three days of the week to rest, and Bardack said she had evaluated Clinton several times since then.