America's Got Talent' season winner is Grace Vanderwaal — watch her final performance here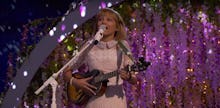 Ten finalists made it through the painfully comical audition rounds to take a shot at America's Got Talent's top prize of $1 million dollars, a headlining show in Las Vegas and a hyperlink in the show's astoundingly detailed Wikipedia. But of course, only one performer could come up with the win.
On Wednesday night, America's Got Talent aired the second episode of its two-part finale and announced their season 11 champion, Grace Vanderwaal — aka the "next Taylor Swift," as Simon Cowell called her when he first heard her sing.
Cowell's prediction is now $1 million dollars closer to coming true.
When the 12-year-old star heard host Nick Cannon call her name, she broke down in tears. Shouting over the mass of fireworks and pyrotechnics going off all around them, Cannon asked if they were tears of joy, to which she responded: "Of course!"
Vanderwaal stunned in their final judged performance, which took place Tuesday, singing an original song "Clay" and accompanying herself on the ukulele. It was the fourth original song she performed on the show.
Vegas is going to be an odd place for the star to perform her quiet, quirky, folk-tinged numbers. However, judging by the strength of her songwriting, charm and connection to Cowell's pop media empire, it will likely only be the first of many larger venues to come.
Watch Vanderwaal's final performance below.