Republican congressman says RNC was also hacked, then takes it back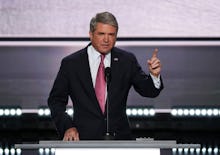 On Wednesday evening, Republican Texas Rep. Michael McCaul walked back statements he made earlier in the day to CNN's Wolf Blitzer that the Republican National Committee's digital network had been penetrated by Russian hackers, saying he meant to say only individual Republicans had been affected.
McCaul, who is the chairman of the Homeland Security Committee, originally told Blitzer the RNC had fallen victim to the same type of attack that struck the Democratic National Committee earlier this year. Intelligence agencies believe Russia was behind that attack, which released emails showing then-DNC chair Debbie Wasserman Schultz tolerated attacks on presidential candidate Sen. Bernie Sander's campaign from her own staff during the party primaries.
"Yes, they have hacked into the Republican National Committee," McCaul told Blitzer, CNN reported. "So this is, again, they are not picking sides here I don't think. They are hacking into both political parties ... We're not sure why they've released some documents and not others."
"What we don't know is the extent of damage done and what they were able to retrieve out of the RNC itself," McCaul added. "That's, again, the subject of an FBI investigation."
Later, McCaul said he "misspoke," according to CNN, and instead said only individual "Republican political operatives" had experienced security breaches.
The RNC similarly denied reports they were hacked. Communications Director Sean Spicer tweeted the story was "not true" on Twitter.
In July, RNC chairman Reince Priebus told MSNBC the organization's email system as possessing "multiple layers" of security, and added "even if we were hacked, you wouldn't see things as embarrassing and miserable as what they did to Bernie Sanders."
In the wake of the DNC hack, Republican presidential nominee Donald Trump challenged Russia to hack his Democratic opponent, Hillary Clinton, and release the contents of her email accounts.
"Russia, if you're listening, I hope you'll be able to find the 30,000 emails that are missing," Trump said during a speech in July. "I think you'll probably be rewarded mightily by our press."