Chance the Rapper, Lil Wayne, 2 Chainz trash a record label during 'Ellen' performance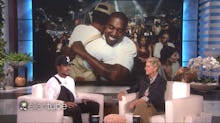 Chance the Rapper, Lil Wayne and 2 Chainz, who have all remained anything but silent about their frustrations with record labels, wrecked a mock label office set during an extremely hype performance of "No Problem" on The Ellen DeGeneres Show. The rappers and their crew went to town on the business-professional aesthetic, hurling papers in the air, getting on top of tables and interrupting a seemingly important meeting amongst those who control artists' fates everywhere.
It's the boldest statement Chance has made in favor of his non-label future in rap. Performing alongside Wayne, who's been battling to release his Carter V album and break contract with Birdman's Cash Money Records for upwards of a year, and 2 Chainz, who's dealt with his own high profile conflicts between labels, makes for a huge "F-you" to the non-music side of the industry.
Chance later tweeted following the impactful performance was an idea he had actually asked a variety of events and shows he could put together for, though the concept had been rejected by all of them. Degeneres was the only exception.
The artist also used more of his time on Ellen to inspire other musicians to buck the label system, showing how far unsigned artists like himself can come.
"I'm just trying to be an example for all the young artists that are becoming artists every day, and working on their craft," Chance told DeGeneres in an interview following the lit performance. "I'm trying to help them avoid the pitfalls of the upper management of music and the non-music side of music."
Chance also thanked DeGeneres for inviting him to perform the first time they met at a White House party, telling her he was "reveling" in the moment and was completely drunk during their exchange.
 "When you said that to me, I was telling stories like 'Yeah man, Ellen said she's going to have me on the show,' and I was like, did she say that? Or was that...?"
Between exclusive White House soirees, performances on Ellen and rapping alongside some of hip-hop's biggest names (all at the age of 23, mind you), there's no arguing Chance proved his point in case. 
Watch Chance's full performance below.