Tyre King, 13, killed by police in Ohio after reportedly pulling BB gun on officers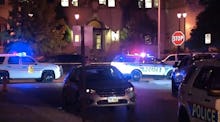 A Columbus, Ohio, police officer shot and killed a 13-year-old boy, later identified as Tyre King. The officer was attempting to detain King on Wednesday night in connection to an armed robbery, according to NBC News.
The Columbus Division of Police said in a statement that King "pulled a gun from his waistband" as officers approached him. After the fatal shooting, police recovered a BB gun from the scene, NBC News reported.
King was pronounced dead at a nearby hospital at 8:22 p.m. Eastern.
Police were initially called to the scene to investigate reports of a group of people, one of whom appeared to be armed, demanding money in the area. When officers chased three suspects matching the group's descriptions into an alley, two escaped by foot — but one stayed behind.
"Officers followed the males to the alley ... and attempted to take them into custody when one suspect pulled a gun from his waistband," according to a police statement obtained by NBC News. "One officer shot and struck the suspect multiple times."
The incident is reminiscent of another Ohio police shooting — that of 12-year-old Tamir Rice, who was gunned down in a Cleveland park by officers while holding a pellet gun.
Sept. 15, 2016, 4:26 p.m. Eastern: This story has been updated to reflect the confirmed spelling of the shooting victim's name.