Kanye West slams Kid Cudi during Florida concert: "We're two black men in a racist world"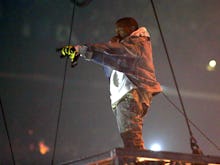 Even though Kanye West apparently got rid of his phone so he could have "air to create," news from the Twitterverse is still getting through to him. Yesterday, Kid Cudi called out his former mentor 'Ye and Drake in a lengthy Twitter rant saying: "I've been loyal to those who haven't been to me and that ends now. Now I'm your threat." Wednesday night during a Life of Pablo tour stop in Tampa, Florida, Yeezy went off.
He reminded Cudi who gave him the platform he now enjoys, scolding Cudi for even using his name. "I birthed you," 'Ye said. "We all dealing with that emo shit all the time; me, Pat, Don C. Don't ever mention 'Ye name." West vaguely addressed some of Cudi's issues, such as the fact that Kanye uses scores of writers to help him craft his hits, saying: "Can't nobody tell 'Ye who to do songs with!" The tone he took was solely one of a father, putting a rebellious young buck in his place.
"You know how many people wish they could be signed to G.O.O.D. Music, get they life changed?" Ye asked in the middle of his Chief Keef remix "I Don't Like." "Never forget that." 
He continued:
I'm so hurt. I feel so disrespected. Kid Cudi, we're two black men in a racist world. I wore skinny jeans first. I got called names before you, bruh. Why y'all got to come at me? This ain't the end of the Malcolm X movie. I'm out here fighting for y'all: creatives, artists, independent thinkers. Don't never mention my name in a bad manner. None of y'all!"
West signed Cudi in 2008 to his label GOOD Music. The rapper produced some of his most commercially successful music there before separating in 2013. Since then, the rapper has had a difficult time reaching the prominence and notoriety he achieved under West's leadership — a fact the Chicago rapper made sure Cudi was aware of Wednesday night. 
It's difficult for fans to watch artists who once considered each other inspirations having such a public fallout. But the beef has got the world interested in what Kid Cudi has to say again, which is a small miracle in and of itself, considering how poorly his last few projects were received. 
Of course, the music is far more important than words. Kid Cudi has a new project due at the end of this month, and Kanye, by his count, is aiming for at least two more before the end of the year. We'll see who's project makes more waves when it drops.