Forbes' 2016 top-paid TV actress list shows more women of color than ever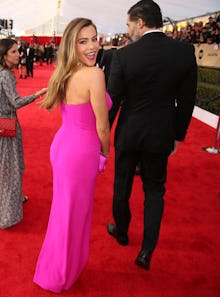 By earning $43 million in 12 months, Modern Family's Sofia Vergara has not just topped Forbes' annual list of television's highest-paid actresses for five years running: She also made more in one year than any TV actor ever, male or female.
The latest top 10 list — which also includes Kerry Washington, Mindy Kaling, and Priyanka Chopra — has the most women of color since Forbes started the ranking in 2008.
Notably, top-earning actresses on the tube are more diverse than their silver screen peers this year: Of the 10 best-paid TV actresses, there are twice as many non-white women as on the 2016 list of highest-paid film actresses, which is led by Jennifer Lawrence.
And there's more good news for female TV actresses of color.
This year, the share of black female TV characters ticked up (17%, versus 15% the previous year), and so did those of Latina (5% versus 3%) and Asian (5% versus 4%) characters — while white women now comprise 71% of characters, compared with 77% previously, per a newly released study from San Diego State University.
These shifts stand in contrast to the researcher's analysis of top 2015 films — in which women of color comprised less than a quarter of all female roles.
Here's the full top-paid list, via Forbes:
1. Sofia Vergara, $43 million
2. Kaley Cuoco, $24.5 million
3. Mindy Kaling, $15 million
4. Mariska Hargitay, $14.5 million
5. Ellen Pompeo, $14.5 million
6. Kerry Washington, $13.5 million
7. Stana Katic, $12 million
8. Priyanka Chopra, $11 million
9. Julianna Margulies, $10.5 million
10. Julie Bowen, $10 million
Now, before you celebrate TV's diversity too enthusiastically, there are a few key caveats. For one, more than half of Vergara's big pull this year comes from endorsement and licensing deals — not her role on Modern Family.
Cuoco, on the other hand, earned most of her moolah from CBS's The Big Bang Theory, for which she receives $1 million per episode.
Also, the same San Diego study above includes some bad news for television actresses of all races: The share of important female TV characters versus their male counterparts — including speaking and lead roles — actually declined this past year. Women are still far less likely than men to be portrayed as leaders and far more likely than men to be cast in stereotypical roles, like caretakers and love interests.
And behind the scenes?
Women fared even worse: 91% of TV shows had no female directors, 78% lacked female editors, 76% lacked female creators and 71% had zero female writers.
That's a reminder that seeing big names like Mindy Project creator Mindy Kaling and Grey's Anatomy creator Shonda Rhimes on various "top" lists is not enough to declare that women of color have conquered TV.
The reality remains that television's female roles — both onscreen and off — are still ripe for upheaval.