There's a NSFW 'My Little Pony' easter egg hidden in iOS 10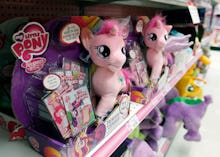 iOS 10 arrived on Tuesday and, despite some early troubleshooting reports, it has been praised for its new features. Texting in particular received a major makeover with the ability to search and attach GIFs within Apple's native keyboard. It's all been pretty innocent fun thus far, but it didn't take long for that to get ruined by the internet.
Deadspin found a crude My Little Pony GIF hiding within the GIF search, which is powered via GIPHY. If one searches with the term "butt," a My Little Pony character will appear bending over and pulling down its underwear in a manner that could only be described as sexual. 
Sure enough, in my own experiment, said My Little Pony GIF was literally the first image suggested upon searching. 
Now revel in the horror yourself: 
Mic has reached out to Apple and will update with any comment.