2016 presidential debate: Here's what you need to know for Monday night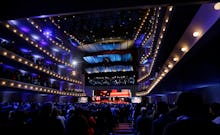 The time has come. In a presidential campaign with historic levels of precedent and vitriol, Hillary Clinton and Donald Trump will face off on Monday, September 26 in the first presidential debate. The Sept. 26 contest will draw tens of millions of viewers. And with neither candidate close to 50% support with the electorate, the debate presents potentially the best opportunity to swing undecided voters.
Here's what you need to know going into Monday night's debate: 
Trump has caught up to Clinton in polling. Fall is upon us and the smell of pumpkin spice lattes is in the air. And yes Democrats, that stench wafting up behind you is Trump's poll numbers. 
Since mid-August, Trump has closed the gap with Clinton to less than two points. In a four-way race, Trump is only down a point. And new polling shows third-party candidates Gary Johnson and Jill Stein peeling off a large percentage of millennial voters — a block of voters key to Clinton's electoral strategy.
Liberals should not be too anxious, yet. The electoral map remains daunting for Trump and some swing state polls show Clinton with bullish leads. But if Trump continues to climb and Clinton delivers a lackluster debate performance, the election could become a toss-up.
_____________________________________________
Read more: 
The stage is a big one. In 2012, over 67 million Americans watched Barack Obama and Mitt Romney face off in the first presidential debate. Obama's tired performance in the first encounter gave Romney a victory against the president known for his oratorical skill. It also gave Romney a bump in the polls. 
Romney briefly took the lead and the polls tightened substantially after the Oct. 3 debate in 2012. It is a safe bet the 2016 presidential debates will draw similar, if not larger, viewership than the 2012 debates. 24 million people watched the first Republican primary debate in August of last year, a record for primary debates.
Johnson will not be joining us. He harped on the debates for months. He bought a full-page ad in the New York Times. He told anyone that would listen that not making the debates was an "electoral death sentence." But Johnson never reached an average of 15% in five specific polls — the benchmark chosen by the Commission on Presidential Debates.
Want to watch the debate online? If you're on Facebook, you can. ABC will show the debate on Facebook Live while television networks broadcast the debates around the country.