Why Donald Trump's rise in the polls could actually be great news for Hillary Clinton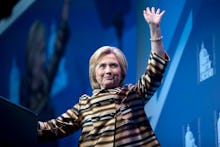 Donald Trump's rise in the polls — shrinking Hillary Clinton's national lead to 1.5 percentage points in the RealClearPolitics average — is giving Democrats and Clinton supporters heartburn, turning what once looked like a slam-dunk race into a nail biter with less than two months to go until Election Day.
But as panic sets in for those who fear a Trump presidency, Democrats say a closer race could motivate anti-Trump voters who currently back third-party candidates or plan on staying home to get off the sidelines and onto Clinton's team.
"A little bit of a Trump surge puts things very clearly in focus, that the stakes are so high here and that Democrats and Democratic-leaning independents really have to articulate what's at stake if Trump were to become president," Martha McKenna, a Baltimore-based Democratic strategist, said in an interview. "And I think it will take the wind out of the sails of any third-party effort."
Other Democrats say Clinton often is at her best with her back against the ropes.
"The closer the race the better Clinton performs and the more motivated her supporters and voters will be to do the work necessary to get people to vote and win," said Mary Anne Marsh, a Massachusetts-based Democratic strategist.
Many point to her late comeback in the New Hampshire primary in 2008 — which she went on to win after a stunning and devastating loss to now-President Barack Obama in the Iowa caucuses — as an example of her ability to perform best under pressure.
"That was the case in the '08 campaign; she got better as Obama rose," said Tom Bowen, an Illinois-based Democratic strategist. "But I am pretty sure Hillary Clinton will campaign the same way regardless of what the polls say, because she knows this is a longer game and not to be reactionary."
And similarly, just as Clinton seems to perform best when, Trump gets cocky when he's winning — reverting to his penchant for his off-the-cuff remarks that have gotten him in trouble throughout the contest.
As Glenn Thrush, Politico's chief political correspondent, wrote in a piece published Thursday, "Trump is convinced that his own genius is the vehicle of his success, and his recent prosperity is loosening his dangerous tongue and unraveling the New Donald narrative pushed by the cable chatterers."
Trump proved that statement to be true on Thursday, when he once again reminded Americans that he pushed the birther conspiracy theory for years to try and delegitimize Obama's presidency and stoke far-right animus against the administration.
First he refused to denounce his five-year crusade against Obama's citizenship and eligibility to be president in an interview with the Washington Post published Thursday.
Then he announced at a Friday morning press conference — which doubled as an advertisement for his new D.C. hotel — that he actually does accept that Obama was born in the U.S.
Yet instead of neutralizing the issue, it served as a very public reminder that Trump's political rise was based on a bigoted crusade against the nation's first black president.
Cable news channels replayed old clips of Trump's conspiracy theorizing about Obama's citizenship on loop Thursday night into Friday morning.
And Clinton used the renewed focus on Trump's birther roots during a Friday morning breakfast in Washington, D.C., hosted by the Black Women's Agenda Workshop.
"His campaign was founded on this outrageous lie," Clinton said. "There is no erasing it in history."
Aside from Trump getting in his own way with the birther ordeal, Clinton, for her part, has already been working to use her bad few weeks of press to her advantage.
She came out Thursday — her first day back on the trail after a bout with pneumonia — and used her stumble to try and humanize a struggle many Americans face: not being able to take time off from work when they're sick.
And on Friday morning, she again tried to use her pneumonia as a critique on Republicans' treatment of women's health.
"The good news is my pneumonia finally got some Republicans interested in women's health," Clinton said at the Black Women's Agenda Workshop breakfast.
To be sure, Clinton's slide in the polls also raises the stakes of the three debates scheduled over the 53 days left of the campaign.
Expectations are low for Trump, while many have high expectations for how Clinton will perform; Democrats are confident that Clinton's past performances under pressure will benefit her at the debates — and possibly at the ballot box on Nov. 8.
"We are coming up on one of the most important points of the campaign, which is the debates," Bowen said. "And for nearly two hours, Donald Trump is going to have to discuss how to make this country safe, how to make it prosperous and is not going to be able to hide his abhorrent record from direct engagement from an extremely experienced debater and political figure."