How long will the first presidential debate last? Monday's schedule for Clinton vs. Trump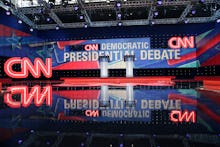 The presidential election is about to heat up when Donald Trump and Hillary Clinton meet face to face Monday in the first of three televised debates. All three debates will take place from 9 p.m. to 10:30 p.m. Eastern without commercial interruption, bringing each debate to about an hour and a half.
The first debate is set for Monday, Sept. 26 at Hofstra University in New York. NBC News' Lester Holt will moderate.
The highly anticipated debate will be divided into six segments of 15 minutes each. The topics were selected by Holt and were announced about a week before the debate — America's direction, achieving prosperity and securing America. Each candidate will have two minutes to respond to each question, then have a chance to respond to each other.
_____________________________________________
Read more: 
The second debate is scheduled for Oct. 9 at Washington University in St. Louis. It will be co-moderated by CNN's Anderson Cooper and ABC News' Martha Raddatz and take place in the form of a town-hall meeting.
Half of the questions will be posed by the moderators and the other half will be asked by citizens, according to the commission.
The final debate will take place on Oct. 19 at the University of Nevada, Las Vegas and will be moderated by Fox News' Chris Wallace. It will have the same format as the first debate.
The vice presidential candidates, Democrat Tim Kaine and Republican Mike Pence, have one debate scheduled: Oct. 4 at Longwood University in Farmville, Virginia.