'Special Relationship' podcast: The American presidency, in sickness and in health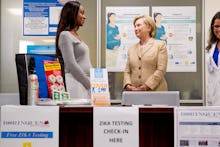 Hillary Clinton has faced questions about her health throughout the 2016 presidential election, but the topic zoomed to the forefront of the public mind this week after she staggered away from a 9/11 commemoration ceremony and then revealed she had pneumonia.
Both Clinton, 68 — or Donald Trump, 70, who has criticized his rival while releasing scant detail about his own medical history — would be among the oldest presidents ever elected.
Episode 10 of Special Relationship, the politics podcast from Mic and The Economist, features a talk with noted presidential historian Robert Dallek of Stanford University, who revealed stunning new information about the late John F. Kennedy's health in his biography, An Unfinished Life.
Dallek's discussion of the astoundingly secretive culture that's traditionally surrounded the wellness of leaders and candidates raises a simple but critical question: How much do voters have a right to know?
Listen here:
Subscribe to Special Relationship on iTunes, Google Play or anywhere you listen to podcasts. Please give us a rating and a review, and stay tuned for our eleventh episode.