Ariana Grande mocks Ryan Seacrest for misogynistic Mac Miller questions on live radio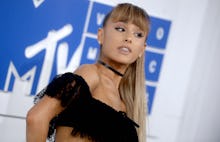 Ariana Grande is still on a victory lap celebrating the success of her chart-topping album Dangerous Woman, and yet it seems all anyone can ask her about is longtime pal, collaborator and possible bae Mac Miller. On her Wednesday morning visit to On Air with Ryan Seacrest, it seems Grande'd just about had enough with the continuously lame interrogation and was forced to help Seacrest find several seats.
The host pulled out a photo Grande shared recently on Instagram of her with Miller, pointing to it as confirmation that she was in fact in a serious relationship with the rapper. But she refused to spill the tea, and checked Seacrest for thinking he was somehow entitled to details about her relationship. It's a discouraging reality that countless female celebrities face in the entertainment press — but not one Grande was willing to stand for that morning.
"If I post something, then that's what I'm willing to share at the moment," she said. "It doesn't mean then you, Ryan Seacrest, with millions of listeners, are entitled to more information."
"How did we get there? What was that segue?" Grande asked in criticism of Seacrest's spontaneous invasion into her personal life. 
"I don't know, I'm asking," Seacrest replied sheepishly. 
"What are you asking? You said a sentence, there was no question," Grande said, reminding Seacrest how to properly lead an interview.
It's hardly the first time Grande has dealt with sexist, misogynistic and entirely unnecessary comments about her dating life, her appearance or her body. Yet it all seems to roll off the singer's shoulder as gracefully as her signature ponytail. The artist used to field comments from trolls on Tumblr, responding with the perfect clapbacks at times she deemed fitting, though that's appeared to slow down. Last year, the dating questions centered around Big Sean. 
It was a June 2015 interview with the Sun that she had to lay down the law. "I'm tired of needing to be linked to a guy, I'm not Big Sean's ex, I'm not Niall's new possible girl," she said. "I'm Ariana Grande."
It seems Grande is willing to entertain certain questions — if they're presented in the right way. Earlier this week the singer sat down this week with Ellen Degeneres, where the two discussed her music, some controversial Nicki Minaj lyrics (i.e. "dick bicycle"), her recent MTV Video Music awards performance and finally Miller. "Let's talk about your love life, can we?" Degeneres asked. "Do you mind?" Grande was extremely uncomfortable, but she eventually admitted she and Miller were together and happy.
It seems Seacrest was trying to go after the same sort of sound bite, but Grande simply wasn't going to have it that early and put that bluntly. If you're going to come at Grande with love life questions, you'd best come correct. 
Ariana Grande: arguable next Mariah Carey by day, superhero feminist icon — also by day.