Soon, people will be able to use their food stamps online in new pilot program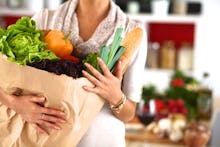 People can't use food stamps on the Internet, but that's about to change. 
The U.S. Department of Agriculture announced Thursday that it is accepting applications for food retailers to participate in a pilot program allowing people to purchase groceries online using food stamps. It will select up to five retailers that will sell food to people in three states. The three states in question will be announced in December, a USDA spokesperson said in an email. 
Around 45.4 million Americans use food stamps, but not all have access to healthy foods. "Accepting food stamps online will be a game changer for the 23 million Americans currently living in food deserts," Gunnar Lovelace, Co-Founder and Co-CEO of Thrive Market, an online retailer that hopes to participate in the USDA's pilot program. In June 2016, Thrive Market launched an online petition to accelerate the program. To date, the petition has more than 310,000 signatures. 
Now known as the Supplemental Nutrition Assistance Program, or SNAP, the United States' nutrition assistance program began in 1933 and has been evolving ever since — but slowly. The 2014 Farm Bill stipulated that the USDA conduct a pilot program testing out the online purchasing with SNAP, and the project is slated to roll out to consumers summer 2017, the press release stated. 
What's taking so long? The USDA says it's working hard to ensure online payments using SNAP are secure and private. If reality lives up to expectations, it could be worth the wait. 
For one, online grocery shopping gives consumers more choice, Mari Gallagher, a food equity researcher, said in a phone interview. A lot of communities where SNAP customers live don't offer a lot of options outside of "fringe grocery stores that are substandard," she said. 
Plus, online grocery shopping can help anyone — not just SNAP customers — resist impulse buys, Gallagher pointed out. In one study, roughly 30% of online grocery shoppers said they made fewer impulse buys online compared to in-store shopping. 
Allowing people to use SNAP credits online could help them stick to budgets or purchase foods that support certain dietary choices. With online shopping, "you can more easily put together special nutrition baskets, like gluten-free, low in sodium or low in fat," Gallagher said.   
Gallagher expects that millennials will probably be early adopters during the pilot program. "They're more tech savvy, they're used to ordering other things online," she said. 
One glaring challenge with the pilot program: Delivery fees. Customers on SNAP are not allowed to use their SNAP benefits to pay for shipping and delivery, and that could be problematic for poor customers, Gallagher said. 
"Another challenge is how the food is delivered. Are people home? Is it going to be left on the stoop or are you going to arrange for delivery window?" she said, explaining that the pilot program could allow local entrepreneurs to get in the grocery game. 
Gallagher said she envisions a system where customers select and pay for goods online and then pick them up in a local brick and mortar store — perhaps selecting their own fresh produce when they pick up their groceries. 
Gallagher expects more businesses to get into the grocery game if Americans can spend SNAP benefits online. "It's good for the consumer and its good for public health," she said.