Lupita Nyong'o in 'Vogue': "I cannot run away from who I am and my complexion"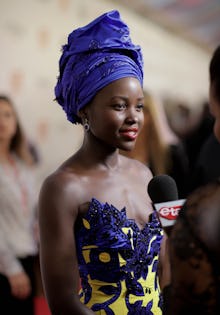 Actress Lupita Nyong'o is widely regarded as a queen — and in her latest film, Queen of Katwe, she'll even get to play one. 
But in an interview with Vogue for the magazine's October cover, Nyong'o said she's still on a path to self-acceptance.
"I cannot run away from who I am and my complexion or the larger society and how they may view that," Nyong'o said. "I realize that with what I shared at the Essence awards."
In 2014, Nyong'o's acceptance speech for the Best Breakthrough Performance Award at the Essence Black Women in Hollywood Luncheon spoke to why society makes it difficult to feel like the "goddess" her fans see her as.
Responding to a letter from a girl who told Nyong'o she had been considering skin-whitening products, Nyong'o said, "I remember a time when I too felt unbeautiful. I put on the TV and only saw pale skin. I got teased and taunted about my night-shaded skin. And my one prayer to God, the miracle worker, was that I would wake up lighter-skinned."
At the time, Nyong'o said she hoped her work on-screen could help black girls and women feel beautiful inside and out. Now, two years later, Nyong'o told Vogue she's going to continue doing what she can for people of color. 
Nyong'o said her art is a huge part of that mission. She pointed out that both the Broadway play Eclipsed, in which Nyong'o plays a woman fleeing her village during the Liberian civil war, and the film Queen of Katwe, a biopic about a Ugandan chess prodigy, "offer a new lens on African identity," according to Nyong'o.
"There are certain cards that have been dealt me that I take on," Lupita said. "I want to create opportunities for other people of color because I'm fortunate enough to have a platform to do that."