The new 'Moana' trailer is a visually breathtaking adventure at sea — with a chicken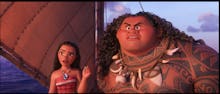 Disney released the full-length trailer Moana Thursday, and if there was any doubt, it looks like one of the most visually stunning animated movies in recent memory. 
In the new trailer for Disney's first animated film with a Polynesian princess, we're given a bit more of the plot: The titular Moana (voiced by newcomer Auli'i Cravalho) tracks down the fallen demi-god Maui (Dwayne Johnson) to help her fulfill an ancient oceanic quest beyond the mysterious "Realm of Monsters."  
Thankfully for Moana, on her side she has more than just Maui — who seems reluctant at first to help her. She has a chicken sidekick (it's not really explained, but he's zany and cute) and the ocean, which she refers to as her friend. Basically, it looks like unintentional water-bending from Avatar: The Last Airbender. 
With killer animation and a musical score from the likes of Hamilton creator Lin-Manuel Miranda, Moana is sure to nab a few Oscars next year. 
Watch the new trailer for Moana, out in theaters Nov. 23, below.