Sept. 26 presidential debate start time, channel, moderator and more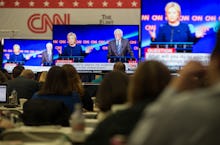 The first presidential debate between Donald Trump and Hillary Clinton is expected to bring in a record number of viewers. Here's everything to know about Monday's first debate between Trump and Clinton, including start time, where to watch, who's moderating and more.
Debate start time
The highly anticipated debate is on Sept. 26 from 9 p.m. to 10:30 p.m. Eastern. It will be the first time the two candidates will appear together in this campaign.
Trump drew large audiences in his GOP primary debates. Some experts think this matchup will attract a record number of viewers, tuning in to see Trump and Clinton go head-to-head.
New York-based Republican strategist Susan Del Percio told the New York Post that she predicts the debate "could be bigger than the Super Bowl." This year's Super Bowl drew 112 million viewers.
Debates can often be game-changing moments for candidates. Just one soundbite of gaffe can sway voters. 
_____________________________________________
Read more: 
Debate channel and where to watch
The major news networks will carry the debate live. Hofstra University will share a link to a livestream on its website here. And CNN is expected to stream the debate online as it has in the past. There are other sites that will offer live streams of the first debate between the two candidates, including Live News Chat and YouTube's Live channel.
C-SPAN will also carry the debate live on its website. And several news outlets will likely share a feed of the debate as it happens on Facebook Live.
Debate moderator
The debate is at Hofstra University in New York and will be moderated by NBC News' Lester Holt.
A second debate between Trump and Clinton is scheduled for Oct. 9 at Washington University in St. Louis, and will be moderated by CNN's Anderson Cooper and ABC's Martha Raddatz.
The third and final debate will take place on Oct. 19 at the University of Nevada, Las Vegas, and will be moderated by Fox's Chris Wallace.