The iPhone 7 comes out on Friday, but you won't be able to get these models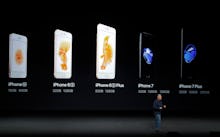 The wait is nearly over. The iPhone 7 officially comes out on Friday and anticipation is high — so much so that a number of the new models won't be available for sale on Sept. 16. They've sold out already. 
Apple made this clear in a recent statement. People hoping to walk into an Apple store and leave with an iPhone 7 shouldn't get their hopes up. Only "limited quantities" of the iPhone 7 are available for in-store purchase for the time being.
Furthermore, those interested in the sleek jet black iPhone 7 or an iPhone 7 Plus of any color are completely out of luck. Apple says none of these models are available for walk-in customers, with the exception of partner locations (i.e. Best Buy). Though their supplies may not last, either.
Apple maintains that both the iPhone 7 and iPhone 7 Plus in all colors are available for purchase on its website, though there's no word on how backlogged the demand is. 
Here is the full Apple statement, courtesy of TechCrunch, below:
We couldn't be happier with the initial response to iPhone 7 and iPhone 7 Plus, and we are looking forward to beginning sales through our retail stores and partners around the world.