The first sneak peek at Lady Gaga in 'American Horror Story' season 6 has surfaced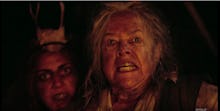 The sixth season of American Horror Story is off to a different, albeit interesting, start. After keeping the new theme a secret up until the premiere on Wednesday, viewers were finally treated to My Roanoke Nightmare. The premiere still has viewers questioning whether or not the show will have several themes throughout the season, but there was one other glaring omission drawing attention: We didn't get a single glimpse of Lady Gaga. 
Yet while Gaga was missing from the premiere, eagle-eyed fans appear to have spotted her in the promo for the show's second episode. It's very, very brief, but you can see Gaga — or someone who bears a striking resemblance to the singer — next to Kathy Bates' character. Bates' character, meanwhile, looks like a Pilgrim who's been through a lot of shit, akin to the show's new "Croatoan" theme. 
Granted, Gaga has been delightfully vague about this season as well, describing her new character as someone "very in the Earth," which could be literal after Sarah Paulson's character saw the ground breathing in the premiere's final, chaotic moments. 
If nothing else, American Horror Story has piqued our interest for at least one more week so we can figure out what the heck Gaga is up to this season. 
Watch the trailer for next week's episode — and likely, a brief shot of Gaga — below.