Sept. 26 debate livestream: Here's how to watch the first presidential debate online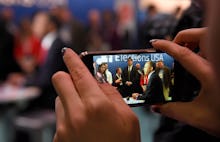 The first presidential debate between Donald Trump and Hillary Clinton is slate for Monday night. Whether you're planning to watch live or set your DVR — get ready for some fireworks.
The debate will take place from 9 p.m. to 10:30 p.m. Eastern. It will be held at Hofstra University in New York and will be moderated by NBC News' Lester Holt.
Debate livestream — how to watch the debate live online
All of the major news networks will carry the debate live and many will stream it online, including ABC News, CBS News, Fox News, CNN and PBS. Livestreaming will also be provided by several news websites, including BuzzFeed News, the Wall Street Journal, and the Huffington Post, according to the Commission on Presidential Debates. C-SPAN will also carry the debate live on its website.
There are other sites that will offer livestreams of the first debate between the two candidates, including Live News Chat and YouTube's Live channel.
Facebook will be at the debate and broadcasting to Facebook Live. Snapchat will also be at the debate, covering it via a "Live Story." And Twitter will livestream Bloomberg's live broadcast of the debate. You can find it at debates.twitter.com, in Twitter Moments or on @bpolitics. 
Set your calendar for the rest of the debates.
_____________________________________________
Read more: 
Remaining 2016 presidential debate schedule
On Oct. 4, the vice presidential candidates will square off at Longwood University in Farmville, Virginia.
"The debate will be divided into nine time segments of approximately 10 minutes each. The moderator will ask an opening question, after which each candidate will have two minutes to respond. The moderator will use the balance of the time in the segment for a deeper discussion of the topic," according to the Commission on Presidential Debates.
Then, Trump and Clinton will face each other again on Oct. 9 at Washington University in St. Louis. That debate will be moderated by CNN's Anderson Cooper and ABC News' Martha Raddatz.
It will be in the form of a town hall meeting, "in which half of the questions will be posed directly by citizen participants and the other half will be posed by the moderator based on topics of broad public interest as reflected in social media and other sources," according to the commission.
The third and final debate will take place on Oct. 19 at the University of Nevada, Las Vegas. It will be moderated by Fox News' Chris Wallace and will have the same format as the first debate.
All of the debates take place in prime time, from 9 p.m. to 10:30 p.m. Eastern.