Lady Gaga announces new album 'Joanne': Meaning of the title, release date and more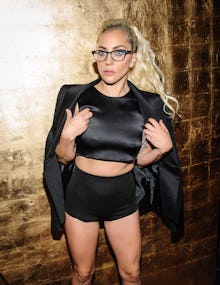 Lady Gaga announced the news her monsters have waiting to hear: Her next album will be titled Joanne with an expected release date of Oct. 21. She made the reveal on Zane Lowe's Beats 1 radio program, teasing that the album, featuring the single "Perfect Illusion," is in its final stages and is "actually going to be done in the next 48 hours." 
It may seem unclear at first what inspired Gaga to name her next album Joanne. Her family life offers a few hints. Joanne is Gaga's middle name and the name of her late aunt on her father's side. She and her father have opened a quaint Italian restaurant in New York City with the same name. "That's wealth," Gaga said through tears, discussing the emotional meaning to the New York Times. "That's the dream." 
Gaga also said Thursday she's still working with the album producer Mark Ronson, who also helped create Amy Winehouse's critical success Back to Black. They're putting last-minute touches on the album's last song. Gaga said Ronson would spend "the last 48 hours meditating with it." The album artwork will be arriving imminently, Gaga said. A few hours later she shared it via her Instagram. It depicts the artist wearing a blush pink hat, standing against a pale blue background.
Earlier this month, she let slip some of the other major names included on the album in an interview with Radio 1's Breakfast Show, naming Ronson, Florence Welch, Beck, Father John Misty and Tame Impala's Kevin Parker. 
"There's definitely a bitter sweetness to [finishing Joanne]," Gaga said Thursday. "This isn't the end, just the end of this moment. It's also the beginning of this moment."
Sept. 15, 2016, 5:10 p.m.: This story has been updated to include Gaga's album art.