The Harley Quinn spin-off film is happening, and Margot Robbie will co-produce it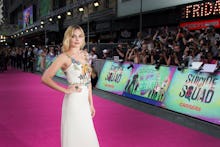 Suicide Squad's abysmal reviews will not stand in the way of Harley Quinn returning to the screen — and Margot Robbie is going to be more involved than ever.
According to a report from the Hollywood Reporter, Robbie will take her fascinating-but-flawed character from the DC Universe into a spin-off film. The Harley Quinn project was first reported back in May, but Robbie's new production deal with Warner Bros. confirms that not only is it in the works, but Robbie will also be involved as a co-producer.
The Hollywood Reporter story says the Harley Quinn spinoff will feature "other DC heroines" as well. Robbie's other set project at the studio will be "an adaptation of Dean N. Jensen's Queen of the Air in which she is attached to star" and executive produce, according to the report. The latter project was first announced in August.
Robbie's Harley Quinn spinoff will give her character more to do after many of her scenes with the Joker were cut out of Suicide Squad. According to the Joker himself, Jared Leto, "a lot" of their scenes were left on the editing room floor.
The film is still in early development and has no projected release date at this time.