Little Miss Flint meeting Donald Trump is all of us watching this election unfold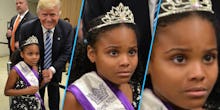 During Donald Trump's campaign stop in Michigan, the Republican nominee met with 9-year-old Amariyanna Copeny, who holds the title of Little Miss Flint. Ahead of Trump's arrival, her mother LuLu Brezzell told local news site MLive.com, "Hillary's been here, we heard what she had to say. Now I want to hear what [Trump] has to say."
In a now-viral photo, though, her daughter's face may have said it all.
When Amariyanna and Trump posed for a photo op, Trump was all smiles — and Amariyanna, clad in her sash and crown, was pure dread. Or at least so it seemed to the sounding board of the internet.
Twitter users were quick to compare the photo to one of Amariyanna and President Barack Obama from this past May. The two got the chance to meet after Amariyanna wrote Obama a letter telling him about the work she's done to bring attention to the Flint water crisis and asking the president if he would visit the city. 
During the meet-and-greet, Amariyanna sprinted toward Obama, who scooped her up in a hug.
Aside from being seemingly rebuffed by Amariyanna, Trump ran into trouble in Flint during a visit to an African-American church on Wednesday when he attempted to use the the opportunity to lash out at his opponent.
"Mr. Trump, we invited you here to thank us for what we've done in Flint, not to give a political speech," Rev. Faith Timmons interrupted, spurring applause from the audience. Timmons had even released a statement before the visit, clarifying, "Trump's presence at Bethel United Methodist in no way represents an endorsement of his candidacy." 
By the looks of it, Little Miss Flint isn't endorsing Trump either.