Trevor Noah finally takes the gloves off and gets angry with Trump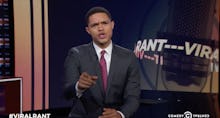 Trevor Noah's got something to say about Donald Trump — and he's pissed. In a roughly two-minute #ViralRant Wednesday night, the Daily Show host took down the GOP presidential candidate.
Speaking at a seeming 100 miles a minute, Noah challenged the candidate's xenophobic and racist rhetoric. 
"Hey, let me ask you something, Donald Trump," Noah said. "How can you make something great when it's already great, huh? What are you going to do next — make Beyoncé sexy again?" 
Noah argued that inclusivity and welcoming immigrants were, in part, the source of America's strength — not its weakness: 
"The greatest country in the world is the country that accepts people who come in from everywhere in the world, Mr. Donald Trump. And I know you think that half the country is a basket of deportables. Yeah, I said it, 'deportables,' not 'deplorables.' But the good people of America know the greatest country in the world is the country where you can come in and create anything."
The host reminded Trump that immigrants like Google co-founder Sergey Brin have started major companies, and are an invaluable part of the country's social, cultural and economic fabric. 
He added that Steve Jobs' family immigrated from Syria — the same country whose refugees Trump has sought to prevent from entering America.
"You know who came from Syria?" Noah asks. "The iPhone came from Syria, Donald Trump. The same iPhone you tweet shit about the refugees on. So every time you tweet with those fat, little, tiny fingers of yours, you should be saying 'thank you' to them for giving you that phone, Mr. Donald Trump." 
Noah's very existence, he contended, was evidence America is already great:
"The fact that a South African can be sitting in this chair that was once run by an American, and can be telling you all of this, this proves how great this country is."
Mic dropped.