'Saturday Night Live' added gay Latino comedian Julio Torres to its writers' room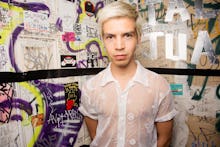 Only days after announcing that it had hired its first Latina cast member, Saturday Night Live has doubled down on hiring Latino talent by adding Latino comedian Julio Torres its writers' room staff, Remezcla reports. Torres is also openly gay, and has been a guest writer on the show previously. 
Torres has previously starred in two web series on the digital platform Más Mejor, a Latino-themed comedy site started by SNL alums Fred Armisen and Horatio Sanz. He's also a much-lauded comedian who has been named one of Comedy Central's Comics to Watch, one of Just for Laughs' New Faces and a finalist for the Andy Kaufman Award, according to Brokelyn. 
Torres spoke to Brokleyn about his comedic sensibilities, saying he prefers to joke about what he loves. "If ever I'm making a joke about Cate Blanchett, it's because I like her so much," he said. "I'm not good about joking about things I don't like, I don't think. When there is stuff I don't like, I don't talk about it, because why would I?" 
Torres uses the term "Space Prince" to describe himself, Explaining to Brokelyn how his persona emerged. "I've never been good or too interested in making jokes about or having material about being Latino or being gay or any of those things," Torres said. "They're very much part of who and what I am, but I feel like the one sort of label that I do feel a strong creative connection with — because I do feel a connection with the other two in other ways — but creatively what I do feel connected to is the idea of being from elsewhere." 
SNL's next season begins October 1. Watch some of Torres' Más Mejor work below.