Is it legal to take a selfie in the ballot booth? Here's what each state allows.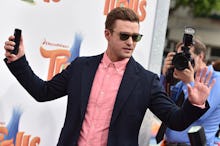 Pop star Justin Timberlake took a selfie as he voted in his home state of Tennessee this week and posted it to his 37.2 million followers on Instagram, urging Americans to vote.
However, Tennessee recently made it illegal to take pictures or recordings in the voting booth, according to CNN.
The photo has since been removed. But CNN reported Wednesday that Timberlake isn't being investigated for the patriotic snap and won't face any legal action.
But it begs the question, especially in this social media-obsessed world: Can you take a selfie in as you cast your vote?
Tennessee is one of 19 states where it's illegal to take a picture in the voting booth, according to the Associated Press.
Where ballot selfies are banned
The other states that don't allow pictures while voting include Alabama, Alaska, Colorado, Florida, Georgia, Illinois, Kansas, Massachusetts, Michigan, Mississippi, Nevada, New Jersey, New Mexico, New York, North Carolina, South Carolina, South Dakota and Wisconsin.
Where you can take a ballot seflie
Taking pictures is allowed in 19 states, according to AP. They are: Connecticut, Hawaii, Idaho, Indiana, Kentucky, Louisiana, Maine, Minnesota, Montana, Nebraska, New Hampshire, North Dakota, Oregon, Rhode Island, Utah, Vermont, Virginia, Washington, Wyoming. The District of Columbia also allows selfies in the ballot booth.
The rest of the states either do not have any laws on the books about taking pictures while voting, or the laws are unclear.
Mic has ongoing presidential coverage. Please follow our main election hub as well as coverage of Donald Trump and Hillary Clinton.